B36 Tórshavn
claim Faroese league title
October 16: Round 26 of the Vodafone Division:


NSÍ Runavík – B36 Tórshavn 1-2 (0-1)
0-1 Símun Joensen
1-1 Klæmint Olsen
1-2 Lukasz Cieslewicz

B36 Tórshavn have won the Faroese title after a 2-1 win away to NSÍ Runavík. As B36 were leading 2nd placed EB/Streymur by 4 points in the table, B36 would claim the title today in the penultimate round if they beat NSÍ.
B36 took the lead in the 35th minute with a headed goal from left back Símun Joensen at the far post from a free kick from Súni Olsen. This was the left back's 8th goal of the season.
But NSÍ levelled the match just after the hour-mark thanks to Klæmint Olsen, following a corner.
As EB/Streymur were beating B71 Toftir, it looked like B36 would have to wait until next Saturday before they could secure the title, but with 10 minutes remaining, Polish striker Lukasz Cieslewicz scored the winning goal for B36 after a fine solo run.
This was B36's 9th title in history; their first since 2005.
Before the match there had been (unsubstantiated) claims that NSÍ would lose in purpose so that they would qualify for the Europa League, which they would only do if EB/Streymur didn't become champions, so therefore they had interests in losing, so that B36 would claim the title, someone had suggested. This had outraged the club who wanted an unconditional apology.
According to reports, NSÍ fought well today and nothing suggested they tried to lose.
Some might still dig out the conspiracy-angle and point out that NSÍ's best player, striker Christian Høgni Jacobsen, was substituted in the 76th minute and replaced by central defender Petur Pauli Mikkelsen, so that they didn't risk NSÍ scoring the winning goal. But the defence will be that NSÍ tried to defend the 1-1 score-line at that time…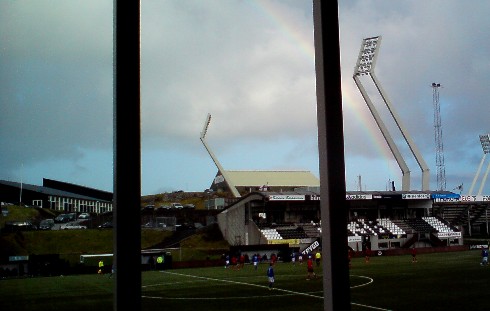 "Gold is at the end of the rainbow", they say. Well, it looks to be true. While B36's neighbours HB tórshavn played against KÍ Klaksvík, the rainbow went straight down through the roof of the B36 clubhouse.

HB Tórshavn - KÍ Klaksvík 1-3 (1-1)
0-1 Kristoffur Jakobsen
1-1 Kristin R. Mouritsen
1-2 Kristoffur Jakobsen
1-3 Hjalgrím Elttør

HB can send B68 Toftir a big thank you as they beat 07 Vestur who are therefore relegated while HB survive despite being downed 3-1 by KÍ today.
KÍ took the lead after 10 minutes when they countered a HB-counter-attack, actually, when a long range effort from Kristoffur Jakobsen took a wicked deflection off team-mate Philip Djordjevic and deceived goalkeeper Teitur Gestsson who could only watch it go in.
But HB responded within 10 minutes when Kristin R. Mouritsen turned in a rebound from goalkeeper Gunnar á Steig who should have dealt better with the angled shot from Hallur Hansson, who had been played clear on the right hand side of the penalty area by Símun Samuelsen.
As a whole, the first half was an even affair with few scoring opportunities.
But in the second half, KÍ was the much better team and decided matters in the space of three minutes around the hour-mark as they took advantage of HB's lacklustre defence. Jakobsen scored the first and Hjalgrím Elttør the second.
HB looked - again – like a dejected side and were outplayed by KÍ who combined well and showcased that their young team could have a bright future, as there are several players with great potential.
HB didn't have the means to respond and they rarely threatened KÍ's goal in the remaining half an hour. A close header and an appeal for a penalty was what they had.
At the other end KÍ could easily have scored several more – also as a consequence of HB throwing caution to the wind and leaving the defence bare, but a combination of ineffective finishing and good goalkeeping prevented HB from further embarrassments.
EB/Streymur - B71 Sandoy 1-0 (0-0)
1-0 Alex dos Santos | Later changed to owngoal

Judging by the performance of the EB/Streymur play today, one shouldn't think that they were playing for the title at they put one their worst performance of the season. In the end they just managed to scrape past the long-time-ago relegated B71 when Brazilian left back Alex dos Santos struck in the 67th minute. That goal has later been credited as a Símun Rógvi Hansen (B71 goalkeeper) owngoal.
In added time, B71 had two defenders sent off; captain Allan Tungá for two yellow card in the heated added time and directly red for Polish player Andrezej Kazimierz Bednarz.
But as B36 beat NSÍ, EB/Streymur's victory helped little, except securing the runners up position.
This will be EB/Streymur's 5th runners up position since 2006.
07 Vestur - B68 Toftir 0-1 (0-1)
0-1 Oddur Højgaard

07 Vestur's destiny was sealed already in the 2nd minute of the game when Oddur Højgaard scored on a rebound from 07 Vestur goalkeeper Hans Jørgensen who had saved from Remi Langaards initial shot.
07 Vestur had a sitter in the second half, but Brazilian forward Clayton Soares squandered the opportunity.
After a slow start to the season, 07 Vestur improved midway through the season and looked like a team that was going to avoid relegation, but then they lost momentum again, and with only 4 points in their last 11 games, relegation became a natural outcome. And overall, 07 Vestur has alongside B71 Sandoy been the weakest team, and can't have many complaints about the relegation.
Víkingur - ÍF Fuglafjørður 4-0 (1-0)
1-0 Finnur Justinussen
2-0 Finnur Justinussen
3-0 Finnur Justinussen
4-0 Kaj Leo í Bartalsstovu

The match between Víkingur and ÍF was mostly about Finnur Justinussen's goal show which he started already in the first minute of the game. He added two more inside the first 20 minutes of the second half to complete his hat trick and break 3 goals clear on the top scorer list to virtually secure the golden boot; his second in his career as he also won it in 2009.
Kaj Leo í Bartalsstovu made it 4-0 with 8 minutes left of normal time.
But we can remind that last season NSÍ's Christian Høgni Jacobsen scored 5 goals against B71 Sandoy on the last day of the season, so why shouldn't Klæmint Olsen (NSÍ), who is second on the list, do the same this season as they again play B71 in the final round…?
The final and 27th round will be played on Saturday 22 October.
Faroe Islands Football | Fixtures/Results | Table | Top Scorers
Soccer and Equipment home