May 16, 2010: Round 08 of the Vodafone Division:


ÍF Fuglafjørður – HB Tórshavn 2-1 (2-0)
1-0 Øssur Dalbúð
2-0 Andy Olsen (pen)
2-1 Rógvi Poulsen

ÍF took the lead 12 minutes into the match when Jan Ellingsgaard on the left got to by-line and made a cross in front of goal where forward Øssur Dalbúð from close range jumped high to head the ball into the back of the net. – Even Rógvi Jacobsen wouldn't have done it better!
After the goal, HB eventually edged closer to the ÍF goal and looked likely to force an equalizer, although they didn't play well. However, the clear cut opportunities were not created and Jákup Mikkelsen in the ÍF goal was never tested.
Instead it was ÍF who doubled their lead with a controversial penalty after 36 minutes. ÍF had a corner and suddenly the referee pointed to the spot as he awarded ÍF a penalty. Apparently, he had seen HB defender Hans á Lag make some kind of infringement against ÍF player Kaj Ennigarð (famous from Youtube) in the aerial duel. But á Lag clearly didn't do anything, although Ennigarð fell to the ground. A clear mistake by the referee.
Nevertheless, Andy Olsen coolly converted the penalty into a 2-0 lead for the home side.
HB had no response and looked clueless for the rest of the half. In fact, ÍF were just whisker from 3-0 five minutes later when Andy Olsen bombarded the ball on the upright.
HB had the majority of possession in the second half, but still found it difficult to get their play going and created very little upfront. Fróði Benjaminsen had a powerful shot from within the penalty area that missed the target, but that was more or less it before they eventually pulled a goal back after 73 minutes. A fine through-ball from Milan Kuljic played Tór-Ingar Akselsen clear in the penalty area, but although Jákup Mikkelsen initially saved the shot, Rógvi Poulsen was ready to put the rebound over the line.
In the dying moments, Símun Samuelsen had a great opportunity for a dramatic equalizer, but although a clear sight of goal, the crowded area forced him to shoot straight at Jákup Mikkelsen.
ÍF are now joint second in the table with Víkingur with the same goal difference, trailing HB by two points.
This sets up a thrilling next round - the last in the first 3rd of the league (which means that all teams have then met once) – where HB meet B36 while Víkingur take on ÍF.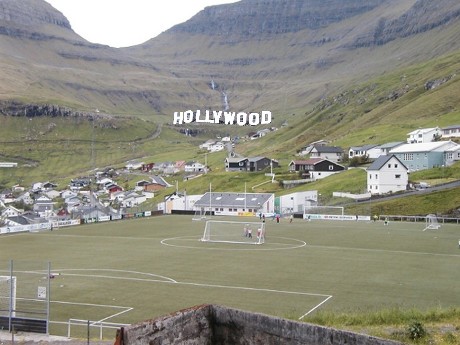 Photo: Fuglafjørður




B36 Tórshavn - NSÍ Runavík 1-5 (0-0)
0-1 Jann Martin Mortensen
1-1 Høgni Eysturoy
1-2 Debes Danielsen
1-3 Debes Danielsen
1-4 Heðin á Lakjuni
1-5 Ólavur í Ólavsstovu

In-form NSÍ won their 4th match in succession and have gone from 1 to 13 points in 13 days and are closing in on the top of the table. B36 run of form is the exact opposite as they have lost their last 2 and failed to win in 5 in a row now after winning their first 3 matches.
Rattling the crossbar was the closest both teams came to scoring in the first half, but some 20 minutes through the second half, both teams scored in quick succession.
First it was Jann Martin Mortensen who headed NSÍ in front, but Høgni Eysturoy equalized for B36 within two minutes. But the joy didn't last long as NSÍ started their goalshow 10 minutes later, scoring 4 times in the last quarter of an hour.
First Debes Danielsen scored a brace – his first with his first touch of the game.
B36's skipper in defence, Dmitrije Jankovic was then sent off after a second booking which opened the floodgates, and Heðin á Lakjuni and Ólavur í Ólavsstovu netted once each towards the end of the match to finish the 5-1 rout.
As NSÍ, now in 4th position, play at home against B71 next, they could climb even higher as the other top 5 teams play against each other.
B71 Sandoy - EB/Streymur 2-3 (1-0)
1-0 Høgni Midjord
1-1 Gudmund Nielsen
1-2 Alex dos Santos (pen)
2-2 Mikkjal Hentze
2-3 Gert Hansen

B71 took the lead midway through the first half when EB/Streymur's 18-year-old 3rd choice goalkeeper Sam Bjartaið made a mistake and picked up a back-pass which earned B71 an indirect free kick inside the penalty area. B71 took it quickly and scored an easy goal before EB/Streymur's defence was ready.
EB/Streymur equalized almost immediately after the interval by Gudmund Nielsen, originally a B71 player.
EB/Streymur then went ahead midway through the half with a penalty from Alex dos Santos.
B71 thought they had earned another priceless point when Mikkjal Hentze equalized 11 minutes from the end of normal time directly from a corner, but EB/Streymur right back Gert Hansen had other ideas as he snatched the win deep into added time. This was the second match in succession the defender scored the winning goal.
FC Suðuroy – Víkingur 1-3 (0-1)
0-1 Súni Olsen
0-2 Súni Olsen
0-3 Finnur Justinussen
1-3 Heini vatnsdal

Súni Olsen gave the visors the lead directly on a free kick on the stroke of half time and added another goal before 10 minutes had been played of the second.
Finnur Justinussen then made it 3-0 10 minutes from the end before Heini Vatnsdal scored a consolation 6 minutes later.
B68 Toftir – AB Argir 1-1 (1-1)
1-0 Kristian Anthon Andreasen
1-1 Nicolaj L. Eriksen

B68's website described the match as one of the worst ever played on their footballground. We take their word for it.
B68 opened the scoring midway through the first half thanks to Kristian Anthon Andreasen but AB were back on level terms a quarter of an hour later with a goal from Nicolaj L. Eriksen. – A most valuable point for AB who are in dear need of them.
Faroe Islands Football | Fixtures/Results | Table | Top Scorers
Home of Soccer and Equipment