April 17 - 20, 2009: Round 03 of the Vodafone Division:

April 17:

Víkingur – 07 Vestur 6-2 (3-1)
1-0 Finnur Justinussen
2-0 Hans Jørgin Djurhuus
3-0 Súni Olsen
3-1 Milan Pejcic
3-2 Tór-Ingar Akselsen
4-2 Andreas Lava Olsen
5-2 Andreas Lava Olsen
6-2 Áslakur R. Petersen

Víkingur came storming out of the blocks and made it 2-0 within the first 10 minutes of the match and when Súni Olsen made it 3-0 with a direct free kick around the half-hour mark, the match looked all but decided.
But when the Serb Milan Pejcic reduced the deficit for 07 Vestur towards the end of the first half and Tór-Ingar Akselsen pulled another back for the visitors with a quarter of an hour remaining, it looked like we were going to get a grandstand finale.
- But hope was short-lived for 07 Vestur, however, because Andreas Lava Olsen restored Víkingur's two-goal cushion after a solo effort just the minutes after.
Lava Olsen added another for Víkingur in the the last 5 minutes of the game before Áslakur R. Petersen finished the rout to make it 6-2.
07 Vestur have now conceded 10 goals in their last 2 league matches and signs are that they will find it very difficult to avoid relegation. But 07 Vestur will be looking forward to the matches against AB Argir, ÍF Fuglafjørður, and KÍ Klaksvík in round 5-7 where they will fancy their chances for points.
Víkingur's next test is away to HB Tórshavn next Sunday.
April 19:

B36 Tórshavn – KÍ Klaksvík 1-0 (0-0)
1-0 Róaldur Jacobsen

B36 still have maximum points after their 1-0 victory over KÍ. However, with no disrespect to either B36 or their opponents, B36 have only played against the teams that will be in the lower end of the table come October. – And by that time B36 will not be on top.
The low-quality first half produced no real scoring opportunities. The second half was marginally better from both sides. KÍ went close early on, but Kristoffur Jacobsen's header hit the upright.
A quarter of an hour before the end B36 broke the deadlock with the winning goal from Róaldur Jacobsen.
AB Argir – ÍF Fuglafjørður 2-0 (1-0)
1-0 Rasmus Nielsen
2-0 John Hansen

AB Argir are off the mark after a crucial 2-0 win over ÍF Fuglafjørður who are rooted to the foot of the table together with 07 Vestur.
AB took the lead a quarter of an hour through the match with an individual effort from Rasmus Nielsen.
Although ÍF gained more of the possession after the goal, they weren't able to create clear-cut chances.
In the dying minutes of the match Bartal Eliasen was inches from equalizing for ÍF when he hit the post with a header, but instead it was AB who countered and made it 2-0 with a goal from John Hansen.
Striker Rógvi Jacobsen is still not available for ÍF because of injury, and is expected to be sidelined for at least another month.
The situation can quickly become critical for ÍF. But with matches against B68 (H), KÍ (H) and 07 Vestur (A), ÍF will not panic quite yet. But they'll need at least 3-4 points from those matches. If they don´t get that, the situation will be alarming.
EB/Streymur – B68 Toftir 3-0 (1-0)
1-0 Levi Hanssen
2-0 Arnbjørn Hansen
3-0 Leif Niclasen

EB/Streymur were never under any real threat of dropping points against B68. Arnbjørn Hansen went close twice early on for the home side – once hitting the bar - before Levi Hanssen put EB/Streymur in front after 15 minutes.
After B68 had threatened slightly in the second half, Arnbjørn Hansen doubled EB/Streymur's lead midway through the second half before Leif Niclasen made it 3-0 with a fine lobber towards the end.
April 20:

NSÍ Runavík - HB Tórshavn 2-1 (0-0)
0-1 Rógvi Poulsen
1-1 Karoly Potemkin
2-1 Karoly Potemkin

NSÍ were close taking the lead almost immediately from the start after poor defensive play from HB who allowed the Hungarian forward Karoly Potemkin to get in between the two defenders, but with a clear sight of goal, Potemkin's weak shot was straight at the goalkeeper.
In fact HB's defence was all over the place during the first quarter of an hour – or most of the first half, really – and Karoly Potemkin got two more great opportunities to put NSÍ in front before 20 minutes had been played.
Once he was completely clear with the goalkeeper, but bombarded the ball right on the keeper who still did extremely well tipping it over the bar the bar.
A few moments later Potemkin was again played clear in front of goal by Hjalgrím Elttør, who looks to be in excellent shape, but again Potemkin managed to squander the opportunity by shooting wide. – An incredible miss! But as we mentioned after the cup match between these two teams, Potemkin needs at least 3 chances to make one count. Today the missing-average was even higher. – However, Potemkin was to have the last laugh. More on that later.
HB had nothing to offer what so ever during the first 45 minutes. (Except from a Hans á Lag header from a free kick that hit the crossbar late on, but his second attempt was ruled for off side – not quite clear if the initial header on the bar was also).
Five minutes before the half-time whistle, NSÍ were again just centimetres from taking the lead as defender Johan Troest Davidsen had a free header at close range after a free kick from Einar Hansen, but HB goalkeeper Símun Rógvi Hansen made an incredible save to keep NSÍ at bay.
NSÍ were again dangerous at the start of the second half, but the shot from Bogi Løkin?? went across the face of goal when he should have hit the target.
But then, out of nothing, HB had suddenly taken the lead before 10 minutes had been played of the second half. Centre back johan Troest Davidsen seemed to have full control of a low cross in front of goal, but somehow he managed to make a meal out of the situation and before he knew it, Rógvi Poulsen had taken the ball off him and fired it into the back of the net.
NSÍ who had dominated the match totally before the incident faded after the goal and let HB have the initiative for the next 15 minutes. However, HB didn't seem capable of taking advantage of the situation as they created near nothing. But HB were happy as long as time was running…
But NSÍ regrouped and took the initiative back and when the clock had started ticking down on the last quarter of an hour, NSÍ equalized after a free kick that was knocked into HB's penalty area and fell in front of (whom other than) Potemkin who this time made no mistake and fired the ball into the goal.
And after 88 minutes HB were sluggish at the back again. After a clearance from HB's goalkeeper, an NSÍ player rose highest to head the ball over the HB defence where Potemkin raced from the HB-defence, and clear with the goalkeeper, not even Potemking could miss this time. And he didn't as he snatched victory for NSÍ and changed name to PotemKING…
HB had a couple of players missing in defence today through injury and suspension, but that should not be enough of an excuse for today's lacklustre performance. Midfield was terrible and doesn´t seem capable of stringing just a few passes together. And up front there is virtually no threat at all – also because they aren't supported by midfield of course. But it's also questionable if HB have the right players for a 4-3-3 system. Judging by today's performance – and also HB's other performances earlier – HB at the moment does not seem to be a team that is capable of winning the title. – Although they have already beaten EB/Streymur in the league and also NSÍ in the Cup.
In that sense NSÍ looked much more like a likely challenger to EB/Streymur's crown. But we'll see on Sunday what NSÍ are made of when they visit champions EB/Streymur.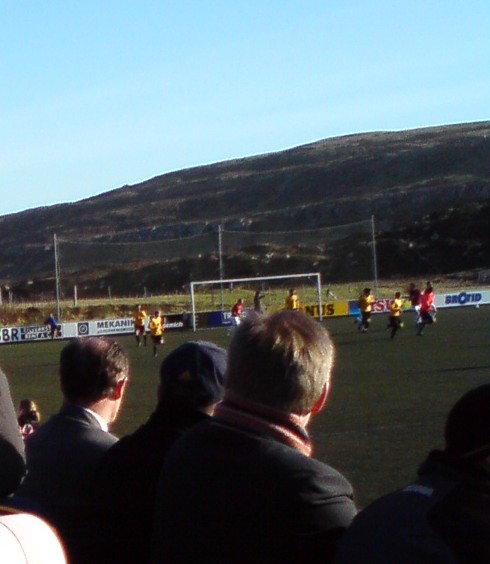 Photo above: A paparazzi photo of the back of Faroe Islands coach Brian Kerr on the left together with delegates from the Faroese Football Association. Kerr has been doing his first inspections during this 3rd round of the Vodafone Division.
| Faroese Soccer | Fixtures/Results | Table | Top Scorers |
| Home of Soccer and Equipment |