May 13, 2009: The Cup Competition, Semi-finals, 1st leg:



AB Argir - EB/Streymur 1-1 (0-0)
0-1 Dánjal Davidsen
1-1 Kenneth Jacobsen

AB Argir are still in with a chance of reaching the cup final after they drew 1-1 with Cup holders EB/Streymur in the first leg of the cup semi-finals this evening, but with the away goal in their bag, EB/Streymur must be considered favourites to go through to their third successive cup final.
Not much happened in the first half which produced few scoring opportunities, but about 10 minutes into the second half, EB/Streymur took the lead with a header from Dánjal Davidsen.
But AB were back in the tie halfway through the half when Kenneth Jacobsen equalized.
The second leg will be played on May 28.
ÍF Fuglafjørður - Víkingur 0-1 (0-0)
0-1 Finnur Justinussen

After a goalless first half where ÍF had been closest to open the scoring when Hanus Eliasen rattled the bar, it was Víkingur who scored 20 minutes through the second half with a header from Finnur Justinussen. 10 minutes before the goal, Víkingur had been reduced to 10 men when defender Atli Gregersen was sent off for a tackle from behind.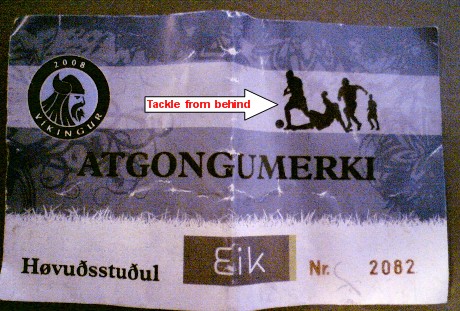 Photo above: A Víkingur-ticket (for their home matches) - As you can see, they even brag about their sliding tackles from behind on their tickets:-) Today it brought a red card (again).

ÍF were just centimetres from an equalizer 8 minutes later, but Andy Olsen's shot bounced off the upright.
With the crucial away goal to Víkingur, ÍF have an uphill battle when they visit Víkingur in the second leg on 28 May.



---

May 28, 2009: The Cup Competition, Semi-finals, 2nd leg:



Víkingur – ÍF Fuglafjørður 5-0 (2-0)
1-0 Hans Jørgen Djurhuus
2-0 Finnur Justinussen
3-0 Súni Olsen
4-0 Magnus Skoralíð
5-0 Sølvi Vatnhamar

Víkingur had no problems in qualifying for the cup final as they comfortably beat ÍF Fuglafjørður 5-0 this evening.
ÍF showed little resilience and 20 minutes into the match Hans Jørgen Djurhuus headed Víkingur in front. That lead was doubled shortly before half time with a goal from Finnur Justinussen as Víkingur beat ÍF's off side trap.
In the second half it was evident that the ÍF players didn´t really have the belief that they could score the necessary 3 goals to advance.
Around a quarter of an hour into the second half Súni Olsen made it 3-0 with a low drive from long range. Magnus Skoralíð poked in for 4-0 with 15 minutes to go before Sølvi Vatnhamar ended the rout a couple of minutes later with the goal for 5-0.
EB/Streymur – AB Argir 4-1 (1-0)
1-0 Bárður Olsen
1-1 Rasmus Nielsen
2-1 Brian Olsen
3-1 Arnbjørn Hansen
4-1 Sorin Anghel

EB/Streymur have qualified for the cup final for the third time in succession, but the second leg was no walkover although the 4-1 score-line could suggest it.
EB/Streymur took the lead almost immediately with a deflected free kick from Bárður Olsen from long range. Olsen was also well assisted by the strong wind.
But AB leveled the tie a quarter of an hour into the second half when Rasmus Nielsen's corner went straight in.
However, AB's joy was short-lived as EB/Streymur went in front again immediately. First, AB goalkeeper Tórður Thomsen made a great save to deny EB/Streymur, but from the following corner Brian Olsen headed EB/Streymur in front again.
AB were just a whisker from leveling the match again when Dánjal Rói Oklsen hit the cross bar. With the away-goal rule, 2-2 would have sent AB through to the final.
But that final faded away for AB when EB/Streymur made it 3-1 with a fine shot from Arnbjørn Hansen before Sorin Anghel made it 4-1 when he rounded the keeper 5 minutes from time.
AB were missing some of their best players, like captain Janus Joensen and his brother Høgni Joensen, who both were in Rome watching the champions final last night. AB`s usual goalkeeper Heðin Stenberg, who became injured last Sunday against NSÍ, was replaced by Tórður Thomsen who has come on loan from AB. Stenberg will be out of action at least to the summer break. Thomsen was NSÍ's 1st choice last season.
----
The cup final between Víkingur and EB/Streymur will be played in Gundadalur Stadium on July 29, the national day.
----



| Faroese Soccer | Table | Fixtures/Results | Top Scorers |
| Home of Soccer and Equipment |