March 20, 2008: The Cup Competition, Round 1:

Cup-holders EB/Streymur
oust Champions NSÍ Runavík
Round 1 of the Cup competition was marred by appalling weather conditions - strong wind and snow - and 3 of the 8 matches were not completed.
See results and goal scorers from the 1st round of the Cup here.


ÍF Fuglafjørður – HB Tórshavn: Called off after 10 minutes
In Fuglafjørður, conditions were actually fine at kick off, but immediately after the referee's whistle, it started snowing, and some 10 minutes later, the pitch was covered with snow and impossible to play on, and the referee therefore took a quick decision to call off the match. Fortunately, no goal had been scored. New match will be played on Saturday, 22 March.
See snow pictures from HB's Picasaweb
Picture of how it's supposed to look :-)

New match, 22 March:
ÍF Fuglafjørður – HB Tórshavn: 2-3

HB seemed to have killed the game off when they went 3 up midway into the 2nd half, but then ÍF scored two, and as HB defender Fróði Benjaminsen received a red card about 5 minutes from time, HB were under real pressure but just managed to avoid the embarrassing equalizer.
But nothing had suggested this grandstand finale. The first 20-25 minutes of first half had been quite even, but then HB started creating the chances. HB had lots of space on the right hand side where Jákup á Borg and Andrew av Fløtum operated, but several chances were squandered either because of a bad last cross or pass, or by poor finishing.
But then Fróði Benjaminsen knocked a long ball forward to an unmarked Jákup á Borg who touched the ball round ÍF's goalkeeper and rolled the ball into the empty goal.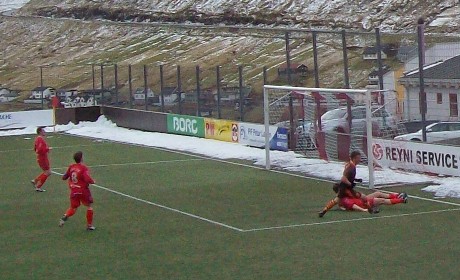 Photo above: Jákup á Borg has just made it 1-0 for HB


5-10 minutes later, Christian Høgni Jacobsen had his shot blocked, but Andrew av Fløtum put the rebound into the back of the net to make it 2-0 for HB.
HB were warned early in the 2nd half as ÍF went close twice. First with a direct free kick which bounced off the crossbar, and later with a header from Bartal Eliasen that went just wide, with the keeper well beaten.
Midway into the half, HB were awarded a penalty for hand-ball, and Andrew av Fløtum scored his second goal of the day when he sent Andras Gango in the ÍF-goal the wrong way. ÍF seemed dead and buried, but not so! They staged a great comeback and created several scoring opportunities.
And about 15 minutes from the end, ÍF were rewarded for their high spirit. The ÍF player did well to get clear of the two HB-defenders, but as he fell to the floor in the penalty area, the referee pointed to the spot. But more than anything, the player seemed to fall over his own feet. The referee probably got it wrong. But Áki Petersen took full advantage of the spot kick.
5 minutes later, ÍF reduced the deficit even more, again with a penalty from Áki Petersen. ÍF got a free kick just outside the penalty area, 10 meters from the byline. Again the referee seemed to get his decision wrong as Fróði Benjaminsen's challenge seemed to be legit. This angered Benjaminsen, and when the free kick was crossed into the penalty area, Benjaminsen seemed to have pushed an ÍF player, and from that, there could only be a penalty.
Before HB had resumed play, Benjaminsen said something to the referee that earned him the red card.
With 10 against 11 the last 5-8 minutes, HB were under pressure and were close to throwing, what at one stage seemed to be a comfortable victory, away. But they held out and survived the scare.
But if HB are to challenge for glory of any kind this season, they cannot afford to be as sloppy as they were in the second half today. Today, HB proved in no way that they are going to challenge for either Cup or championship.



B36 Tórshavn – Skála: Called off after 10 minutes
In Tórshavn, conditions were dubious before the match had started, but a decision was taken to give it a try. But 10 minutes later, the referee deemed the pitch to be too slippery and the wind too strong for the game to continue and he therefore called the game off. Luckily, no goal had been scored. The new match will be played on Saturday, 22 March.

New match, 22 March:
B36 Tórshavn – Skála 1-0
B36 was the better team throughout the 90 minutes against a Skála team missing several players, among others their 2 new Rumanians, as their work permit has not been granted yet. Also Nigerian forward Obi was missing. He was replaced by, today, player-manager John Petersen. B36 scored their goal midway through the first half.



Fram Tórshavn – KÍ Klaksvík: Cancelled
Later in the afternoon, Fram and KÍ should have played on the same pitch as B36 and Skála, but the match was cancelled before it started. The match is rescheduled for Saturday, March 22.

New match, 22 March:
Fram Tórshavn – KÍ Klaksvík 1-4
KÍ, who were without their two Brazilian forwards, had no troubles against the 2nd division side, and with a brace from Jósup Henriksen and Kristoffur Jakobsen in each half, KÍ were 4 up before Fram got a consolation.



EB/Streymur – NSÍ Runavík 1-0
Cup holders EB/Streymur ousted champions NSÍ with the sole goal coming within 3 minutes of the match when Hans Pauli Samuelsen curled the corner directly into the net. The wind was strong in the first half, and at times it was snowing, and it was feared that the match would be called off.
But in the second half, conditions improved considerably. However, NSÍ seemed strangely unmotivated in the second half and never seemed able to oppose any threat to EB/streymur's lead, and in fact, they only had one real effort on goal when Bogi Løkin tried with a long range effort aimed at the top corner, but goalkeeper René Tórgarð was alert and blocked the shot. Right after this, Hans Pauli Samuelsen should have doubled EB/Streymur's lead, but he squandered the opportunity.




B71 Sandoy – B68 Toftir: 2-1 after extra time
B68 seemed to be going through to the quarter finals when they had taken the lead with a penalty 10 minutes into the 2nd half, but just 3 minutes from time, B71's Brazilian forward, Clayton Soares, forced extra time with his equalizer. And a couple of minutes into the extra time, Rasmus Nielsen made the turn around complete for B71, when his deflected shot went in.



VB/Sumba – AB Argir 1-2 after extra time
AB Argir had the better opportunities in the first half, and twice player-coach Allan Mørkøre was denied by the woodwork. But AB weren't denied when former VB/Sumba player, Nigerian Evrard Blé played Rúni Elttør through to score.
In the second half, AB were close to double their lead, but for the 3rd time they hit the upright. Instead, it was VB/Sumba who made the crucial equalizer in stoppage time with a goal from Dan Djurhuus. However, AB got the deciding goal in extra time's second half which earns them a tie in the quarter finals away to B71.



07 Vestur – Víkingur 5-3 after penalties
Both 07 Vestur and Víkingur played their first ever official match today, as both clubs are brand new – although they have existed in different forms earlier; Víkingur being the merger of GÍ Gøta and LÍF Leirvík, while 07 Vestur have had a whole bunch of compositions.
Today's cup tie produced few scoring opportunities, but half an hour into the 2nd half, former HB player Tór-Ingar Akselsen raced from Víkingur's defense and put 07 Vestur ahead. But the lead was short-lived, as Adrian Joensen put the balance right within 10 minutes when he scored Víkingur's historic first official goal.
Nothing happened in extra time, except a red card for 07 Vestur's Gunnar Haraldsen. In the penalty shoot out, 07 Vestur's goalkeeper Trúgvi Askham became the hero when he saved Víkingur's last two penalties.



TB Tvøroyri – MB Miðvágur 6-1 after extra time
The 2nd division side MB showed unexpected resilience when they forced the tie into extra time, but then there weren't much juices left in the MB players, and they were ripped apart. But it was MB who drew first blood when they took the lead early in the second half of the first 90 minutes. But TB got their all-important equalizer, and in extra time, they added 5 to their tally.

----
All of the cancelled matches from round 1 will be played on Saturday, March 22.
The quarter finals were originally scheduled to take place on Easter Monday, March 24, but at the moment it's only clear that the match between B71 and AB will go ahead as planned. This because in all of the other matches, if they are played on Easter Monday, one team will only have had 2 days rest, while the opponent will have had 4 days rest.
| Faroese Soccer | Table | Fixtures/Results | Top Scorers |
| Home of Soccer and Equipment |