June 2010 Round-Up:


30 June, 2010
UEFA Europa League, preview:

Víkingur vs. Besiktas (Turkey)
As Cup winners, Víkingur enters the tournament in the second qualifying round where they have been paired with Turkish giants Besiktas.
Besiktas ended this season in 4th place, having won the title in 2009. The first leg will be played in Besiktas' Inonu Stadium in Istanbul on 15 July and the second leg in Svangaskarð Stadium in Toftir on 22 July, and not at Víkingur's normal home ground in Gøta, 'Sarpugerði' as it doesn't meet UEFA requirements. Svangaskarð is around 15 kilometres away from Gøta and has real grass compared to Sarpugerði's artificial grass. Víkingur could have opted to play the match on the artificial grass in Gundadalur in Tórshavn, but as that is 60 kilometres away, they have preferred the closer Svangaskarð – maybe prioritizing supporters over surface.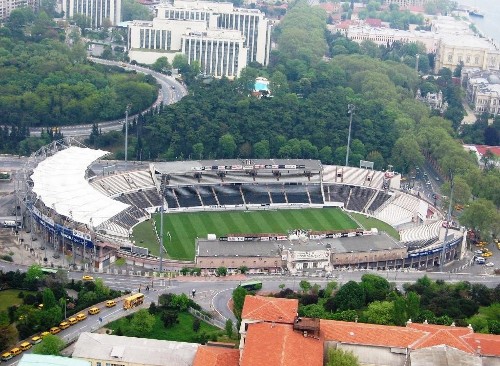 Photo above: Besiktas' Inonu Stadium


EB/Streymur vs. Kalmar FF (Sweden)
EB/Streymur, who qualified to the Europa League as runners up in the league, drew Swedish club Kalmar FF out of the pot.
Since Kalmar returned to the top flight again in 2004, they have managed a top 5 position every year since, and in 2008 they won their first national championship. Additionally they have won 3 Swedish Cups. Currently Kalmar are no. 5 in the 'Allsvenskan", the Swedish top division.
The first leg – in the first qualifying round – will be played in Kalmar, Sweden on 1 July. The second leg will be played at Svangaskarð Stadium in Toftir on 8 July. As EB/Streymur's home ground við Margáir doesn't meet UEFA requirements, also they must choose between Toftir and Tórshavn.
But why EB/Streymur have preferred the real grass at Svangaskarð instead of the artificial grass in Gundadalur, which surface the players are much more used to, is unknown. Travelling length should be about the same for most supporters. If the rent at Svangaskarð is cheaper maybe, we don't know. However, EB/Streymur have always preferred the real grass for their European games. Last year they chose Tórsvøllur in Tórshavn with real grass instead the Gundadalur Stadium with artificial grass when they played in the Champions League qualification stage.

NSÍ Runavík vs. Gefle IF (Sweden)
Also NSÍ will face Swedish opposition in their 1st round qualifying match as they were paired with Gefle IF. NSÍ qualified for the UEFA league with their 4th place in the league 2010.
Gefle are currently placed as no 11 in the Swedish 16-team league, so maybe this is the match where chances for a Faroese point in Europe is the best. A year ago NSÍ looked to have done enough to have secured a point against mighty Rosenborg, but two goals for the Norwegians in added time (the first on a penalty) secured the Norwegians a 3-1 win. Highlights from that match can be seen here.
As with Víkingur and EB/Streymur, neither NSÍ's football ground við Løkin meets UEFA's requirements and NSÍ have therefore chosen Gundadalur stadium in Tórshavn where they have fond memories from 2008 when they beat Georgian champions Dinamo Tbilisi 1-0 in Champions League qualifying. Unfortunately the Georgian had won the first leg 3-0.NSÍ play their first leg match in Gundadalur on 1 july and a week later, the away leg takes place in Råsunda í Stockholm, which the Swedish club have chosen for the Europa League match although Gefle usually play at their home stadium Strömvallen.
Gefle have never won the Swedish championship, and their best achievement in the cup is a runners-up spot. Interestingly, last season's top scorer Finnur Justinussen was at a trial at Gefle after the Faroese season had ended. The word was that Gefle were interested in a signing but that their economic situation didn't allow it.

---

29 June, 2010
UEFA Champions League, preview:

Will HB Tórshavn take
Red Bull Salzburg by the horns?
In Monday's draw for the UEFA Champions League a week ago, the 2009 Faroese champions HB Tórshavn drew Austrian club Red Bull Salzburg, who won the Austrian title this May; their second in a row. The teams will meet in the second qualifying round (Only four teams play in the first qualifying round: FC Santa Coloma, SP Tre Fiori, Birkirkara FC and FK Rudar Pljevlja).
The first leg is to be played 13 July in Austria and the return leg in the Faroes 20 July. Just like HB, Salzburg also play their matches on artificial grass.
Judging by Salzburg's results in last season's Europa League group stage, they will be a formidable opposition, as they won all of their six matches against Villarreal, Lazio and Levski Sofia. In the knock out stage of the last 32 they were beaten 3-2 on aggregate by Standard Liège.
HB have faced Austrian opposition before as they in 2001 played against Grazer AK in the 2001/2002 UEFA Cup. At home HB were leading 2-0, but had to settle for a 2-2 draw after 90 minutes. The Austrians won the return leg in Austria by 4-0.
Red Bull Salzburg used to have the name SV Austria Salzburg, but when the Red Bull company bought the club in 2005, the club was renamed to reflect the company's name. Also the club colours were changed. This didn't go down well with portions of the supporters, who formed a new club with their original name, SV Austria Salzburg. That team had to start their existence in the 7th tier in of the Austrian league in the 2006/2007 season. But as they have been promoted every season since, they will in 2010/2011 play in the 3rd tier.
Red Bull Salzburg has been a dominant factor in Austrain football since the takeover in 2005 as they have won the league 3 times since: in 2007, 2009 and 2010. 3 titles have come earlier: in 1994, 1995 and 1997.
The first leg between HB and Red Bull Salzburg will be played in Austria on 13 July in the Red Bull Arena in Austria which has a capacity of 31,000. Interestingly, just like HB, the Austrians also play on artificial grass.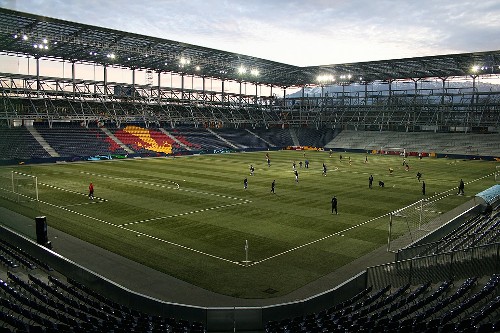 Photo above: Red Bull Arena

The tickets for the match against HB have gone on sale and below we have copied the info from Red Bull's website website at
http://redbulls.com/soccer/salzburg/en/home.html

Prices for the first competitive match of the season: Red Bull Salzburg v Havnar Bóltfelag Tórshavn on Thursday 13 July have been confirmed:
Ticket sales begin today. All season-ticket holders (Abonnenten) are entitled to free entry as part of their season ticket.
School certificate offer: all school children who take their 2009/2010 end-of-year school certificates to the ticket points will receive a 50% discount on their tickets in the family sector. The offer is subject to demand!
Prices:
Tuesday 13 July 2010, 6:00 pm, Red Bull Arena,Red Bull Salzburg v Havnar Bóltfelag Tórshavn,
Upper tier: East/WestFull price: € 26,00 / concessions: € 20,00 / children: € 10,00
Lower tier: East/WestFull price: € 23,00 / concessions: € 18,00 / children: € 7,00
Lower tier: North/curvesFull price: € 16,00/ concessions: € 12,00/ children: € 5,00
Lower tier: SouthFull price: € 16,00/ concessions: € 12,00 / children: € 5,00
Family curves:Full price: € 16,00/ concessions: € 12,00/ children: € 5,00

The second leg will be played in Gundadalur in Tórshavn on 20 July.

But will HB be refused to play at home?
An interesting question that has not been raised in the Faroese media is what would happen if HB (or another club) qualified for the play-offs, because UEFA's Regulations of the UEFA Champions League state in paragraph 13.13 and 13.14, that:

13.13 From the play-offs onwards, matches must be played under floodlights.
a) For the play-offs, the light average must correspond to Ev (lux) 1,400 towards for the main camera(s) and Ev (lux) 1,000 towards areas of secondary interest.
b) From the group stage onwards, minimum horizontal and vertical illuminance levels of 1,500 (lux) must be guaranteed and lighting must be uniform.
13.14 Clubs must ensure that floodlighting installations are maintained and provide UEFA upon request with a valid lighting certificate issued within the previous 12 months. UEFA may conduct an independent assessment of lighting levels in stadiums and will notify the clubs in good time of the results of suchassessments and of any corrections to be made.

But the floodlights in Gundadalur (or at any other stadium in the Faroes) do not meet those requirements. The floodlights at most Faroese football grounds don't have much more power than that of a couple of electric torches, really (ok, a bit exaggerated:-)
We'll try to have some info on the teams competing in the Europa League for Wednesday. Those are EB/Streymur, Víkingur and NSÍ Runavík.

---

10 June, 2010
Víkingur defender Atli Gregersen joins Scottish 1st division side Ross County F.C.
Scottish first division club Ross County today announce on their website that they have signed 27-year-old Faroese International and Víkingur centre back Atli Gregersen.
"I'm delighted to secure Atli's signature as in addition to the obviously physical presence he has on the park, his experience against top International sides is a huge plus - not just the experience of going up against players like Benzema and Anelka in a high pressure game, but also working with former Republic of Ireland manager Brian Kerr in training. We have a relatively young squad so Atli definitely adds something a wee bit different to the group which is what you look for as a Manager", Derek Adams told www.rosscountyfootballclub.co.uk.
Gregersen who currently still plays for Víkingur will join his new club at the end of the month.
The Staggies, which is their nickname, ended in 5th place in the recently completed 1st division and surprisingly made it all the way to the cup final where they were beaten 3-0 by top flight club Dundee United.
Gregersen has played 8 times for the Faroe Islands and was included in Brian Kerr's first selection as coach for the Faroe Islands in May 2009.
In the May round-up 2009 we wrote:
"Also centre back Atli Gregersen is a surprise selection. Several years ago he expressed his disappointment when he wasn't selected while he played in the Danish 1st division.
8 years ago, then 18-year-old Gregersen said these words to Faroese newspaper Dimmalætting:
"I'm aware that I maybe will have to wait a while for my chance in the national team – just look at such a good player like Súni Olsen, who finds it difficult getting a place in the team – but to get into the national team is absolutely an ambition."
- Well, 8 years later that dream has now been realized. At least partially, as the provisional 23 man squad will later be reduced to 18 players."
---

04 June, 2010
Brian Kerr to become assistant manager of Celtic?

Scottish newspaper Evening Times today has an article where they speculate in who will become the assistant manager of Celtic and one of the names they mention is Faroe Islands coach Brian Kerr who admits he would be interested in the job and is quoted for saying:
"The role at Celtic would interest me, as I am sure it would most people from the Republic of Ireland."
"But I have not been contacted about it, so can't really give any further response."
You can read the whole article in the Evening Times here.
--------
Luxembourg - Faroe Islands 0-0

The friendly international between Luxembourg and the Faroe Islands ended with a 0-0 draw.
After the Faroe Islands had been the better team in the opening 10 minutes, Luxembourg eventually got the upper hand and looked more likely to score during the first half. In one incident the Faroes saved on the line.
The Faroes improved in the second half which they dominated in the first half an hour and had sporadic chances, although not clear-cut, maybe.
Luxembourg took over again in the last quarter of an hour, but failed to make their domination count.
On 11 August, the Faroe Islands visit Estonia in their first match of the qualifying campaign for the European Championships in Poland and Ukraine in 2012.
---

01 June, 2010
Faroe Islands beat B1909 in training match
B1909 - Faroe Islands 0-1 (0-0)
0-1 Christian R. Mouritsen

The Faroe Islands have this evening beaten Danish third-level team B9109 1-0 in a training match used a preparation for the friendly international against Luxembourg on Friday 4 June. It wasn't even a full-length match as each half lasted only 40 minutes.
Christian R. Mouritsen scored the goal early in the second half from a rebound after Súni Olsen had hit the woodwork from a long range effort.
Around 300 spectators attended today's match.
Brian Kerr had made two changes from the initial team he selected in May, as (reserve) goalkeeper Meinhardt Joensen and defender Vagnur Mohr Mortensen have withdrawn because of injury. In their place Kerr has selected AB Argir goalkeeper Tórður Thomsen and B68 player Pól Jóhannus Justinussen, who has been playing in the centre-defence for the U-21 team, although he mostly has played in midfield for his club this season.
Also midfielder Jákup á Borg has now withdrawn from the team to face Luxembourg, and instead the coach has selected Viljormur Davidsen, who has some experience from the Faroese U-21 team and plays for Danish club OB Odense's U-19 team as a defender. A couple of years ago his whole family moved to Denmark to live so they could support the youngster in his dream of becoming a professional football player.
--------
Brian Kerr Interview

In the Irish Times you can read an amusing interview with the coach of the Faroe Islands, Brian Kerr, who has been travelling all over Europe in the last few days. Read "Beauty of the Beautiful Game still travels well" her!
Faroe Islands Football News
Soccer and Equipment home