January 31, 2007: January Round-Up:


The start of the Faroese soccer season 2007 is fast approaching and most teams have started playing pre-season friendly-games. Read the latest news from the 10 Formula clubs below.
However, we start this January round-up with an amusing story from Japan:

Japanese Amused at Faroese Soccer :-)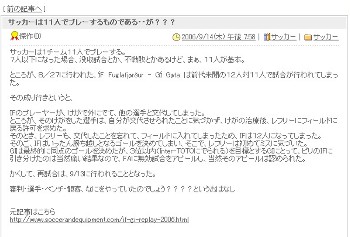 Last season we wrote about a match in the Formula Division that had to be replayed because ÍF Fuglafjørður had scored a goal while they were actually 12 players on the field.
Well, funny stories travel fast on the Internet, even from the Faroe Islands to Japan, where we have found the story on a Japanese Yahoo-blog. You can read the full story at this URL: http://blogs.yahoo.co.jp/foroyer/19731452.html - Oh, by the way, it's all in Japanese signs :-) But with Google's translation tool, it's possible to understand at least bits of the Japanese article.


---
Formula-Clubs News
AB Argir
Newcomers, AB Argir have strengthened their defence with Fróði Clementsen, who has played for EB/Streymur the last 3 seasons. Originally, he is a B36 player, although he also played for B68 in 1999.
AB have also had a Dane on trial for a while, whom AB's website only call Peter with no surname. No news out whether he'll be staying or not.
AB will probably want to get hold of a quality midfielder, as their midfield looks a bit week if they want to avoid relegation.
----
B36 Tórshavn
B36 Tórshavn have signed KÍ player Ove Nysted (who was on loan to 1st division club LÍF LeirvÍk for the last 9 games of last season). Ove is a tall central defender and very strong with his head, and in B36 they expect a few goals from him on set-pieces this coming season. At times, he has also played as a forward.
Influential midfielder (and sometimes defender) Fróði Benjaminsen was on trial at Danish Superliga club Silkeborg in December and last Monday, Fróði left the Faroes again, because the Danes wanted to have another look at him. – No news out yet, if there will be a contract or not.
----
B71 Sandoy
B71 Sandoy, who won the 1st division last season and were promoted to the Formula division, will be without their captain for the last 3 years, central defender Bergleif Sólsker, who has joined TB Tvøroyri in the 1st division.
B71 Sandoy wrote on their website, that they expected 23 year-old Dane Anders Rasmussen on trial for the last week of January, but there is no news out, how it went. They hoped he could replace Bergleif Sólsker in defence.
----
EB/Streymur
EB/Streymur will be at full strength again this season. Important midfielder Ronnie Samuelsen had called it a day at the end of last season, and central defender and captain Egil á Bø was undecided whether he would play for another year, but Ronnie has changed his mind and plays again this season, and so does Egil á Bø.
----
GÍ Gøta
GÍ Gøta have been weakened considerably since last year by losing 3 key players, but now they have finally gotten something back, as defender Atli Gregersen, who last year played for Danish 1st division club BK Frem, has returned to GÍ, where he also played in 2005.
----
HB Tórshavn
Not much news from champions HB this time around. Training started on January 9th, although there has been some light raining all year round. HB's first training match was on last Saturday.
----
KÍ Klaksvík
It has long be known that Faroese International Atli Danielsen would not be playing for KÍ Klaksvík this season as he has moved to Denmark. There he has signed a contract with 1st division club BK Frem. (BK Frem also have a Faroese reserve goalkeeper, Gunnar Nielsen who earlier this month was on a week long trial at Premier League club Reading).
KÍ Klaksvík's coach, Toni Paris, has been looking to find a defensive replacement for Atli Danielsen, and just recently he announced that he had found one in Florida. And in California he found a forward who he thinks will suit KÍ very well. So, when Tony Paris comes back to Klaksvík, he'll have two new players with him.
One is a 22 year old defender called Kareem Smith and has been playing for American club University of South Florida Bulls (yep, that sounds American:-), shortened USF. He's said to be a strong and powerful defender and is also very consistent one, as he has played in every minute of the latest 56 matches. That's more than 5000 minutes in a row. Smith has also appeared for Trinidad and Tobago's U-20 national team, as well as United States' U-18 National team.
But if the player has any idea of were he's coming to (Klaksvík, Faroe Islands) is maybe a bit doubtful, as this is what the headline of the USF Bull's website says: "Former Bull Kareem Smith Signs On With Professional Team In Denmark". – Lol :-) professional team in Denmark... sigh. - Calling it Denmark is one thing, but professional? Nah, not really, eh...? You can read the full announcement at this link
The other new KÍ player is a 23 year-old forward from California who has played for Rollins College. His name is Chris Cerroni, born in England. He's said to be an expert finisher; very quick and experienced. Sound like a quality signing for KÍ, as he has also had a trainee-contract with Premier League club Charlton, when he was younger. Cerroni leaves Rollins as one of most successful forwards in its 51 years. He ranks fourth in school history in goals (46), eighth in assists (25), and fourth in points (117), their website reports: http://rollinssports.athleticsite.com/article.asp?articleID=638


----
NSÍ Runavík
For long it has been unclear, if one the Faroes' very best defenders, Pól Thorsteinsson, would play for NSÍ Runavík again in 2007, but now he has finally decided to stay with NSÍ for another season.
----
Skála
From Skála, there hasn't been much news of late. Skála will play their first pre-season training match on February 10th against ÍF (1st division).
----
VB/Sumba
Faroese newspaper Dimmalætting writes that VB/Sumba's coach Tomislav Sivic will not be arriving as planned because of health-issues in his family back home in Serbia. Instead, VB/Sumba and Tomislav Sivic have agreed that Sivic's assistant coach, when he was coach for the Serbian U-17 national team, shall take care of VB/Sumba, at least for the time being. When and if Tomislav Sivic will come later, is not quite clear.
VB/Sumbas squad will be more or less the same as last season, but they are looking for a new forward.
----
A few results from pre-seasons friendly games:
B36 – EB/Streymur 1-2
HB – FS Vágar 2004 (1st div.) 0-0
AB – LÍF (1st div.) 2-0

Note: Several key players were missing for several of the teams, so these results are not much worth in regards to benchmarking.
---
Annual Klaksvík Tournament
The annual KÍ Klaksvík pre-season tournament between last season's top 3 + the hosts KÍ, will be played on March 10 and 11.
The draw looks like this:

March 10:
12:45: B36 - EB/Streymur
15:00: KÍ - HB

March 11:
12:45: 3rd/4th place
15:00: Final

("Ironic sidebar": This is the tournament KÍ Klaksvík often win and then they think that they'll of course also win the league championship... Well, most often they don't;-)
---
Faroe Islands U-21 National Team
The Faroese Soccer Association has appointed two coaches for the newly founded U-21 national team. The coaches are Heðin Askham og Bill McLeod Jacobsen, who both are experienced youth coaches and have been coaches for several other Faroese youth national teams.
The draw for the UEFA European U-21 Qualification Tournament will be held in Sweden on February 13th.
The squad for the first U-21 training session was this:
Jóhan Mouritsen, Svenn Jacobsen, Páll M. Joensen, Emil N. Leifsson, Poul Thomas Dam, Pætur T. Jørgensen, Ólavur í Ólavstovu - HB Tórshavn
Jóhan Gunnarsson, Ásbjørn Gunnarsson, John Hansen - B36 Tórshavn
Tórður Thomsen, Jóhan Petur Poulsen - B68 Toftir
Símun Louis Jacobsen, Sverri Jacobsen, Sam Jacobsen - GÍ Gøta
Fritleif í Lambanum - ÍF Fuglafjørður
Poul N. Poulsen, Levi Hanssen - SKÁLA
Debes Danielsen, Einar Hansen, Jóhan Davidsen, Bogi A. Løkin - NSÍ Runavík
Arnbjørn T. Hansen, Leif Niclasen - EB/Streymur
Símun Rógvi Hansen - B71 Sandoy
Andreas Lava Olsen - LÍF Leirvík
Jóhan Hendrik Ellefsen - MB Miðvágur
Jón Krosslág - VB Vágur
Trygvi Askham - FS Vágar 2004
Mathias Samuelsen, Kristoffur Jakobsen - KÍ Klaksvík
Christian R. Mouritsen - Manchester City
Gunnar Nielsen - BK Frem (Denmark) and Jónas Tór Næs -(former BK Frem (Denmark), now without a club)
| Faroese Soccer | Table | Fixtures/Results | Top Scorers |
| Home of Soccer and Equipment |