October 16, 2007: UEFA Euro 2008 Qualifier, Group B:



France's Shock Landing
in the Faroe Islands
When France played against the Faroe Islands on Saturday, the plane with the French team didn't land in the Faroes until 3 1/2 hour before kick off, because there had been heavy fog at the airport. But when the plane finally did land, it looked to be a very rough landing.
Eurosport has a video of the extreme landing and have interviews with the French coach Raymond Domenech and a shocked Thierry Henry.
Video of France's extreme landing in the Faroe Islands 2007 (opens in a new window).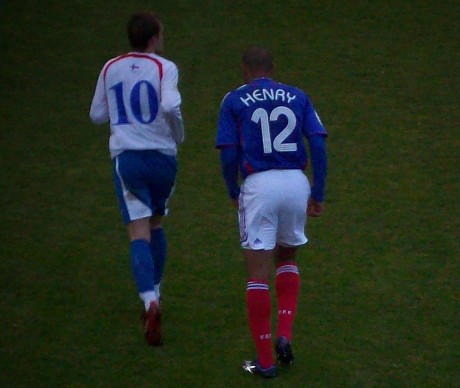 Thierry Henry at Tórsvøllur Stadium, Faroe Islands, 2007
| Faroese Soccer |
|Home of SoccerandEquipment |