February 2013 Round-Up:
---
February 28, 2013
Super cup on Sunday 3 March
The league kick off is fast approaching with the first round being played on 9 and 10 March and before that there is the Super cup on Sunday 3 March between last season's champions EB/Streymur and cup winners Víkingur.
Ibrahima Camara to 07 Vestur
Newly promoted 07 Vestur have signed B68 Toftir's Senegalese forward, 21-year old Ibrahima Camara who came to B68 in the latter part of 2010. The following season he scored 5 goals in 12 premier division games as well as 4 goals in the cup competition before got injured halfway through the season and had the rest of the season ruined as well as the whole of the 2012-seaon (he made 3 appearances towards the end of the season).
Brian Jacobsen, who we earlier said have moved from Skála to 07 Vestur, has after all not made the switch. He only had a single training session with them. Jacobsen was the second most scoring player in the 2nd tier last season.

Ahmed Keita to AB Argir
B68's other forward, 25 year old Ahmed Keita, has signed for the other promoted club, AB Argir. Keita started his career in the Faroe Islands with B68 in 2008 and had his most successful year the following year when he scored 15 league goals. Like his compatriot Camara, also Keita was sidelined for almost the whole of the 2012 season, making only 3 appearances.
Who knows if B68 would have prevented relegation with both of them fit last season…

Jan Ellingsgaard returns to ÍF
ÍF left back Jan Ellingsgaard, who had moved to Denmark, has returned to the Faroes again and by all accounts will be playing for ÍF again this season. It's not officially clear yet, however, but before it has become official that he'll not play for ÍF, we'll consider him as an ÍF player.

Pól Jóhannus Justinussen returning to Icelandic football?
NSÍ Runavík coach has admitted that he does not expect defender Pól Jóhannus Justinussen to be part of NSÍ this season after all as he is likely to shift to Fylkir in Iceland. Justinussen has also been on trial at Dundee FC earlier in the year. In 2011 Justinussen played for Valur Iceland.
Centenary birthday
EB (Eiðis Bóltfelag), which original was one half of the EB/Streymur football club, turned 100 years 23 February.
EB and Streymur's football clubs joined forces in 1993 and played under the name EB/Streymur. However, both clubs still existed as individual clubs, but in 2011 the two individual clubs ceased to exist as football clubs, and merged into one club called EB/Streymur.
However, EB still lives on as a club, but not with football on the program. Today they only play handball.
Below are a coupule of pictures from Mølin, where EB used to play their football.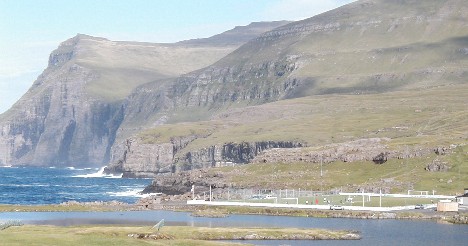 ---
February 25, 2013
A correction:
Not the first time the Faroe Islands have played outside of Europe

It was mentioned below that the game against Thailand U23 was the Faroe Islands' first match outside of Europe, but that is not entirery correct.

In 2006 the national team was on a training camp in Florida where they played against three club teams.

---
February 21, 2013

Faroe Islands beaten 2-0 by Thailand's U23

Thailand U23 – Faroe Islands 2-0 (2-0)
29' Narubodin Weerawatnodom
45' Pakorn Premsak

In the end, Thailand's team turned out to be their U23 team rather than their senior team, although that apparently was plenty enough to beat Faroe Islands' seniors.
Although the match is still listed on FIFA's website (but without a result), it will likely be taken off that list again if it's not a match between two senior teams. But FIFA also make reservation for the accuracy of their information:

"FIFA's information does not stem solely from official information from the associations or confederations, but also from third parties (media, private individuals). FIFA can therefore not vouch for the accuracy of the data in every case (especially regarding friendly matches). However we make it our duty to constantly verify unofficial data."

Thailand took the lead just before the half-hour mark when Narubondin Weerawatnodom with a cheeky flick from a corner managed to turn the ball into the far side of the goal.

Moments later, the Faroe Islands were lucky no to concede again when goalkeeper Gunnar Nielsen failed to hold on to a cross, but the completely clear Thai player only managed to hit the post.

But on the stroke of half time, Thailand doubled their lead when Pakorn Premsak was released to get clear and fire past Nielsen.

At times, Thailand played beautiful, fast and technical football.

The Faroe Islands had a fair share of possession in the second half, but failed to create clear-cut scoring opportunities.

Captain of the Faroese team, in Fróði Benjaminsen's absence, was right back Jónas Tór Næss.

The starting line-up of the Faroes was:
Gunnar Nielsen, Viljormur Davidsen, Jónas Tór Næs, Rógvi Baldvinsson, Odmar Færø, Símun Samuelsen, Kaj Leo Í Bartalsstovu, Pætur Dam Jacobsen, Høgni Madsen, Jóan Símun Edmundsson  Arnbjørn Hansen.

Karl Løkin, Pól Jóhannus Justinussen, Andreas Lava Olsen, Páll Klettskarð og Gilli Sørensen came on as substitutes.

Video highlights below:

---
February 20, 2013
Thailand vs. Faroe Islands back again on the FIFA website

The match between the Faroe Islands and Thailand has now been relisted on the FIFA.com website which means that FIFA now concider it as an official international, and that Thailand's team will be their senior team.

The match will take place at the Suchalasai Stadium in Bangkok at 18.00 local time, which is at 11.00 GMT.

It's the first time a Faroese national team plays outside of Europe.

February 14, 2013
Is the Thailand friendly against their U23 team?
One of our secret international spies has made us aware of some news on a site about Thailand football (http://www.thai-fussball.com) where a post onh their facebook page https://en-gb.facebook.com/thaifussballde states on 8 February:

"Instead of the Thai senior side, Thailand's U23 will play vs Faroe Islands on 21 February."

The spy had also seen the match originally listed on FIFA's website (as a senior match), but that it had been removed again later, and therefore indicating that they don't consider it as a an official international between two senior sides; again indicating that it will indeed be the Thailand U-23 team that will play the Faroe Islands.

The Faroese Football Association has mentioned nothing about the Thailand team being an U23 team, however, the national team's assistant coach said in the radio today that he didn't know if they would play against Thailand's strongest side or not (although he was maybe referring to whether it was a full-strength senior team or not, and not whether it maybe was some youth team).

The Faroese squad is leaving the Faroes today, and the match against Thailand will be on 21 February in Bangkok.

----

Atli Gregersen replaced by Erling Jacobsen
Central defender Atli Gregersen, who for the first time had been selected for the national team since Lars Olsen became coach, has pulled out of the Thailand tour because he was prevented to go.
He has been replaced by Víkingur team-mate Erling Jacobsen

----

Kaj Leo í Bartalsstovu commits to Víkingur
Having been on trial in Holland and hoping for other options abroad, winger Kaj Leo í Bartalsstovu has accepted that his longing for overseas football won't materialize this time around, and he has therefore committed to Víkingur for another season. 

Daniel Udsen to Herlev
Faroe Islands international Daniel Udsen, who has always lived in Denmark, except from 2010 and 2011 when he played for EB/Streymur, has switched from Helsingør to Herlev in the Danish 3rd tier. Herlev is fighting in the relegation zone while Helsingør is near the top.

Rógvi Baldvinsson moves up a division in Norway
Defender Rógvi Baldvionsson, who has lived in Norway for the most of his life, has switched from Aalgard BK in the 3rd tier to Bryne in the 2nd tier on a two-year contract. Below you can see him scoring against Sweden in the World Cup qualifier on 12 October 2012:

Justinus Hansen in Norwegian 4th tier
Midfielder Justinus Hansen, with 4 caps for the Faroe Islands, who moved to Norway before the end of last season (not to play football), has joined Spjelkavik IL who have just been promoted to the 3rd tier.
---
February 6, 2013
Embarrassing mix-up between Thailand and Taiwan

An observant reader has made us aware of that in last month's round-up there has been a mix-up between Thailand and Taiwan.

The paragraph states: "The Faroese national team has been invited to Thailand by the Taiwanese football association".

That is of course rubbish, because why should the Taiwanese FA invite the Faroes to play against Thailand. To make it clear, the Faroe Islands will only play against Thailand and not Taiwan!

This website further said: "The training camp will be from 14 to 23 February and will also contain a friendly against the Taiwanese national team on 21 February.  Currently, Taiwan is no. 138 on the FIFA World Ranking List..." which of course is also rubbish.
Again, the Faroe Islands will only play against Thailand and not Taiwan. And it is Thailand who is placed no. 138 on the FIFA World Ranking list.

Somehow this mix-up has spread to Wikipedia. Wonder who the original source is...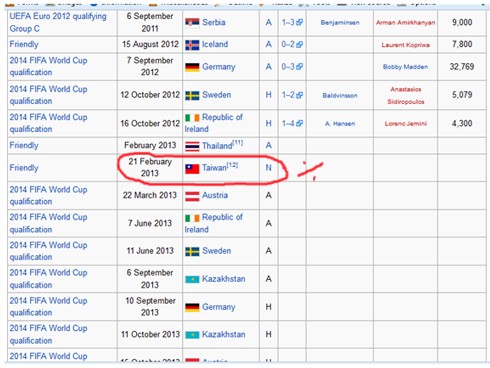 Faroe Islands Football News
Soccer and Equipment home