October 19, 2008: Round 26 of the Formula Division:


Round 26 of the Formula Division is postponed to
Tuesday October 21 because of bad weather!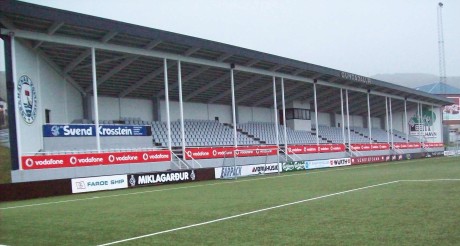 Photo: A deserted Gundadalur Stadium in Tórshavn.
All the matches in the 26th and penultimate round of the Formula Division have been postponed to Tuesday, October 19, because of strong wind at most venues.
Although the weather was bad in Tórshavn too, it was playable, but because this match could have decided the championship (EB/Streymur would become champions without playing if HB and B36 drew), it was decided that also the local derby between HB Tórshavn and B36 Tórshavn should be postponed.
---




October 21, 2008: Round 26 of the Formula Division:


EB/Streymur
are champions 2008
Skála - EB/Streymur 1-3 (0-0)
0-1 Arnbjørn Hansen
1-1 Óbi
1-2 Arnbjørn Hansen
1-3 Arnbjørn Hansen

Skála weren´t giving EB/Streymur the championship title for nothing and managed to hold the visitors at 0-0 at half time. However, EB/Streymur had created the better opportunities in the opening 45 minutes and went close when Hans Pauli Samuelsen's effort hit the upright.
But about 10 minutes after the break, Formula Division topscorer Arnbjørn Hansen, who had not scored in EB/Streymur's last 5 games, sent EB/Streymur on championship-course.
But just a minute later, Nigerian Óbi sent chills down the spine of the EB/Streymur crowd when he took advantage of a blunder from EB/Streymur goalkeeper René Tórgarð and equalized.
A draw would still be enough for EB/Streymur even though HB were winning against B36 in the Tórshavn derby, but for the visiting crowd, the situation was starting to look like a 2006 déjà vu when EB/Streymur were just minutes from securing the title but had to surrender it to HB, as KÍ beat EB/Streymur with a late goal.
However, the torments lasted only a couple of minutes today, as Arnbjørn Hansen restored the lead for EB/Streymur before he shortly after completed his hat-trick and secured EB/Streymur the 2008 title.
HB Tórshavn – B36 Tórshavn 3-0 (2-0)
1-0 Andrew av Fløtum
2-0 Fróði Benjaminsen
3-0 Fróði Benjaminsen

HB secured the runners up spot with a 3-0 win over neighbours B36, who played with 10 men in the last hour as Jákup á Borg, who switched from HB mid-season, was sent off.
The first half saw plenty of attacking moves from both sides and one of them gave HB the lead in the 5th minute when Andrew av Fløtum was on the right place to poke home the rebound from B36 goalkeeper Meinhardt Joensen who had blocked the initial shot.
Hanus Thorleifsson then threatened twice for B36 and once saw his shot across the face of goal going narrowly wide.
Also Ingi Højsted went close when he latched on to a loose ball outside HB's penalty area, but the effort went just wide of the left post.
Just after the half-hour mark, B36's Jákup á Borg was sent off for telling the referee in no uncertain terms what he though about the situation in the world today…
Not long after, Jóhan Ejvind Mouritsen´s (probably) attempted cross almost caught B36's goalkeeper out of position, but in the end he was saved by the crossbar. The goalkeeper had almost been caught in a near-replica situation earlier in the match, but then he just managed to tip the ball over the bar. And maybe the goalkeeper wasn't quite innocent when HB doubled their lead as the first half was drawing to a close. HB had a freekick outside the penalty area on the right to the goal. Páll Mohr Joensen took it with his right foot, curled it on the right hand side of the two-man wall close to the right post where the goalkeeper gave a rebound which Fróði Benjaminsen was ready to tap in. The goalkeeper and the wall probably expected left-footed Poul Thomas Dam to shoot. But they were taken by surprise when it instead was right-footed Mohr Joensen who was the executor.
In the second half, HB for the most kept the 10-men B36 from creating chances. But in a 5 minute-spell, B36 gave their last and got close on a couple of occasions. The best chance fell to Brazilian left back Alex dos Santos whose shot first was blocked by HB-goalkeeper Marcin Dawid before Santos fired the rebound into the side netting.
Eventually, B36 ran out of breath, and with a quarter of an hour remaining, a completely clear Fróði Benjaminsen made it 3-0 when he volleyed home from close range after a cross from Rókur av Fløtum Jespersen on the right.
HB could have added to the score more than once. Closest was Páll Mohr Joensen who hit the post.
The result means that HB will be runners up as they cannot be caught by B36 in third place with only one match remaining (unless B36 win with 27 goal against B68 and HB lose to EB/Streymur… ).
B36 can still drop to 4th spot if they fail to beat B68, and NSÍ beat Skála on Saturday.
B71 Sandoy – Víkingur 0-1 (0-0)
0-1 Sam Jacobsen

B71 had to get 3 points to avoid relegation, but they failed in doing so. B71 had the better chances in the first half, but didn´t make them count. Clayton Soares went closest with an effort on the post.
Shortly before the final whistle, B71's faith was sealed when Sam Jacobsen headed in the winning goal for Víkingur.
Víkingur announced last week that they have appointed former coach of the national team Jógvan Martin Olsen as their coach for the next 2 years.
B68 Toftir – ÍF Fuglafjørður 0-1 (0-0)
0-1 Andy Olsen

ÍF were not quite sure of survival before today's match, because if they lost and B71 won, then ÍF and B71 would meet in a relegation-finale on Saturday.
ÍF of course weren't interested in that and wanted to make sure of their existence already today. Late in the second half, Andy Olsen booked a place for ÍF in next year's Formula Division with his 4th goal since his switch from NSÍ Runavík in the summer. However, as B71 lost, the 3 points weren't that important in the end.
KÍ Klaksvík – NSÍ Runavík 0-1 (0-1)
0-1 Owngoal

KÍ was in the same position as ÍF Fuglafjørður and weren't secured a place in the top flight if B71 won. But as mentioned, B71 didn't wind and the rest is therefore academic.
NSÍ went in front early in the first half thanks to an owngoal from KÍ's Ári Samson.
| Faroese Soccer | Fixtures/Results | Table | Top Scorers |
| Home of Soccer and Equipment |