August 12, 2006: Round 19 of the Formula Division:

NSÍ Runavík in hot pursuit of leaders EB/Streymur who draw against HB Tórshavn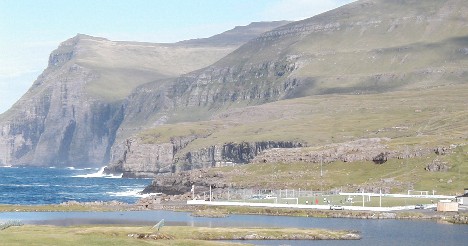 Mølin, Eiði, EB/Streymur's soccer ground
EB/Streymur - HB Tórshavn 1-1 (1-1)
Being 5 points adrift of EB/Streymur, HB Tórshavn could ill afford anything but 3 points in the match against table toppers EB/Streymur, if they seriously wanted to challenge for the title this year, although 8 matches are still remaining in the season.
EB/Streymur were quick into their stride and took the lead after just 5 minutes. HB had problems in keeping EB/Streymur away from the HB goal and then suddenly Pole Rafal Kwiecinski hammered a thunderous long-shot into the back of the net.
But within 10 minutes, HB had leveled the score when Jákup á Borg was played clear and he placed the ball in the EB/Streymur-goal.
Midway into the first half, Rógvi Jacobsen was played through and seemed to be brought down when he rounded the keeper, but the referee instead awarded Rógvi with the yellow card for filming.
In the second half, EB/Streymur laid siege to the HB goal for the first 10 minutes and Rafal Kwiecinski almost scored with another dipping thunder-ball from way out, but this time the shot went just centimeters over the goal.
Hans Pauli Samuelsen was also close when his curling free kick looked to be going straight into the top left corner, but HB goalkeeper Bárður Johannesen made a super save.
HB then improved and created some good opportunities. Jóhan Ejvind Mouritsen changed direction and found Kári Nielsen in the center of field who again played a perfect through-ball to Tór-Ingar Akselsen who, from a somewhat tight angle, blasted the shot well over the crossbar with his instep. – A simple inside to the far post would have done the trick…
The minute after, EB/Streymur's best chance of the second half arose because of a misunderstanding between the HB-goalkeeper and his defense which saw Arnbjørn Hansen completely free in front of goal, and he only had to give the ball a gentle nod with his head to score in the empty goal. Well, he did give it a nod, but the ball went wide of goal…
Rógvi Jacobsen then went close for HB with a powerful header, but EB/Streymur goalkeeper, René Tórgarð made his trademark reflex-save.
Late in the game, Jákup á Borg was played through on the right, but instead of shooting from a tight angle, he cut inside and the opportunity went begging when the pass was squandered by two HB-players who stood in the way of each other.
The match ended 1-1 and all in all, a draw was a fair result, but HB's chances of winning the title must now be considered slender. EB/Streymur's lead has now been cut to only 3 points over NSÍ Runavík, but HB are still 5 points adrift and have played a game more than EB/Streymur and NSÍ.
B36 Tórshavn – KÍ Klaksvík 1-5 (0-2)
An out of shape B36 team, who was also missing players through suspensions and injuries, were demolished 5-1 by KÍ Klaksvík. B36 seem to have lost the pace completely and are unlikely to defend their championship title. KÍ are probably also too far behind to be a real threat for EB/Streymur.
VB/Sumba – GÍ Gøta 0-0
VB/Sumba added one point to their tally with a goalless draw against GÍ Gøta who have not won in their last 6 games. VB/Sumba were closer to the victory as they hit the woodwork twice. But VB/Sumba were without their coach Ole Andersen, who was sacked on Thursday. Maybe a bit surprising, because although VB/Sumba are dangerously close to relegation (they are 3 and 4 points ahead of the 2 teams presently in the relegation positions), very few had expected VB/Sumba to survive this season, but they have managed to win their key matches to stay above the relegation line and had taken points in 3 of their last 5 games, including a draw against HB. Today, former players Bjarni Johansen and Eyðun Jacobsen were care-taking coaches. Well, 1 point against GÍ is a fine result, but we'll se over the coming weeks if VB/Sumba made the right decision or not to fire their coach.
B68 Toftir – Skála 2-4 (1-3)
Skála are in full flow again – not least thanks to midfielder, Serb, Nenad Stankovic, who returned in the summerbreak – and today they easily beat B68. Skála scored their first 3 within the first quarter of an hour. After some signs of improvement after the summer break, B68 seem to be heading in only the wrong direction now and so far, their shifting of coach has not yielded any result and with 3 tough matches coming up against GÍ (a), KÍ (h) and B36 (a), B68 might find themselves in a very difficult situation after those matches.
ÍF Fuglafjørður - NSÍ Runavík 1-3 (0-2)
NSÍ did what was expected of them when they beat ÍF and are closing in on EB/Streymur, as only 3 points now separate the two. But veteran goalkeeper, Jens Martin Knudsen, will not be in the goal next Sunday when NSÍ take on HB in the crucial title match, because 10 minutes from time in today's match, he was given the red card for retaliation.
---


All the results from round 19:

EB/Streymur - HB Tórshavn 1-1 (1-1)
1-0 Rafal Kwiecinski
1-1 Jákup á Borg

B36 Tórshavn - KÍ Klaksvík 1-5 (0-2)
0-1 Paul Clapson
0-2 Atli Danielsen
0-3 Christian Lundberg
0-4 Hjalgrim Elttør
0-5 Christian Lundberg
1-5 Niels Joensen

VB/Sumba - GÍ Gøta 0-0

B68 Toftir - Skála 2-4 (1-3)
0-1 Alexandur Johansen
0-2 Alexandur Johansen
0-3 Jónhard Frederiksberg
1-3 Súni Fríði Barbá
1-4 Jónhard Frederiksberg
2-4 Anderson

ÍF Fuglafjørður - NSÍ Runavík 0-3 (0-2)
0-1 Helgi L. Petersen
0-2 Christian Høgni Jacobsen
0-3 Óli Hansen
1-3 Bartal Eliasen (pen)

| Faroese Soccer | Table | Fixtures/Results | Top Scorers |
| Home of Soccer and Equipment |