May 21, 2006: Round 09 of the Formula Division:

HB Tórshavn move up to
second place in the table
Skála – ÍF Fuglafjørður
The match between Skála and ÍF was cancelled due to bad weather: Strong wind and hail showers. No new date has officially been set yet, but the parties involved hope to play it on Monday evening.
Update, Monday 22:
Skála's miserable season continues as they were beaten by fellow strugglers ÍF this evening and with the 3 points, ÍF went from rank bottom to 7th place in the table and Skála fell below the line. However, things looked bright for Skála, when they took the lead just a few seconds into the match, but ÍF turned things around with two second half goals and jumped above the relegation line for the first time this season. Only 1 point now separates the bottom 4, and really, anyone of them could go down. But somehow, Skála will be expected to turn things around at some point. Next Sunday is a good opportunity, as they play B68, who are in last position. But, naturally, B68 will think the same about Skála…
B36 Tórshavn – NSÍ Runavík 1-1 (1-1)
For the 3rd time in succession, B36 drew at home and that takes its toll on the table, where B36 now has slipped to 5th. But there is only 1 point separating no. 2 and no. 5, but they are now 4 points adrift of leaders EB/Streymur. B36 has also been hit by injury to key players lately as well as they have collected a lot of suspensions because red cards. Midfielder Ingi Højsted was injured in the game against HB on April 26 and Fróði Benjaminsen broke a bone in his foot in the friendly game against Poland last Sunday. He will be out for several weeks. And today B36 added another red card to their collection of 3, which is now 4, as goalkeeper Jákup Mikkelsen was sent off the pitch 25 minutes into the second half, after retaliation. But the red card had no influence on the game today, as NSÍ had nothing to show for in the second half. B36 had taken the lead after half an hour with at penalty, but Christian Høgni Jacobsen leveled the score just 5 minutes later. Next time (on Saturday) B36 are away to KÍ Klaksvík, and without Jákup Mikkelsen in the goal, B36 might find it difficult.
KÍ Klaksvík – GÍ Gøta 1-1 (1-0)
KÍ still haven't lost and today they also thought they had won the game until GÍ cancelled out KÍ's 5th minute goal in injury time. On the table, KÍ is now 3rd, level with HB on points, 3 points behind EB/Streymur and 1 point ahead of GÍ in 4th position. GÍ today were without Poul Ennigarð, who broke his leg in training last week. KÍ were without suspended forward, Poul Clapson, but when he returns, he might have a new partner in attack, as KÍ have signed former Danish Superliga player, 35 year old Christian Lundberg. Lundberg is still a prolific goalscorer, but now in the lover divisions in Denmark. It's not clear yet if Lundberg will be ready for KÍ next saturday against B36. But with this new player, KÍ will be even harder to beat in the future. Could they go all the way?
VB/Sumba – EB/Streymur 0-5 (0-2)
This match was never any contest. Hans Pauli Samuelsen got a brace in the first half, one from a direct free kick. VB/Sumba earlier in the season leaped into 7th place by winning the key matches against B68 and ÍF, but as VB/Sumba will be playing against GÍ (a), KÍ (h), B36 (a) and EB/Streymur (a), they might soon be back below the relegation-line. But then they again have key matches against B68 and ÍF. EB/Streymur are 3 points clear at the top, but if they lose against HB next Sunday, then HB take first spot.
B68 Toftir - HB Tórshavn 1-2 (0-2)

HB moved into second place in the table after a 2-1 win over bottom team B68 Toftir in terrible weather conditions. The strong wind and the mixture of rain and sleet made it very difficult to play real soccer.
HB took an early lead when HB's Leif Nolsøe took advantage of a poor clearance from the B68 defense and bombarded the ball into the net from long range.
Midway into the first half, HB doubled their lead, when Páll M. Joensen was suddenly clear on the left hand side of the B68 penalty area, after some sloppy defending from B68, and he beautifully curved the ball with his left foot around the goalkeeper into the far side of the goal.
B68, who found it difficult to play against the wind, never threatened in the first 45 minutes and Bárður Johannesen in the HB goal never had to make a save.
But if it had been easy for HB in the first half, they got much stiffer opposition in the second.
Midway into the second half, B68 won a free kick in a very dangerous position just outside the penalty area slightly to the right. Veteran Øssur Hansen curled the ball around the wall into the bottom corner of the goal with his lethal left foot, as he has done so often before.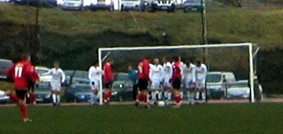 Bárður Johannesen in the HB-goal is setting up his wall…
…B68's Øssur Hansen is ready to fire…
…The ball is in the goal! B68 have reduced the lead.

B68 now really threatened the HB goal and came very close to level the score on 2 or 3 occasions. Once, a header went just a couple of centimeters over the crossbar (on the picture below).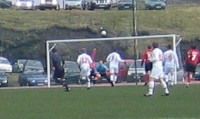 However, it wasn't all B68, as HB also had a couple of good opportunities at the other end. Twice Rókur av Fløtum Jespersen was in a good position on the left, but the keeper saved the weak shot on both occasions, and once Tór-Ingar Akselsen beat the keeper, but somehow placed the ball wide of the empty goal.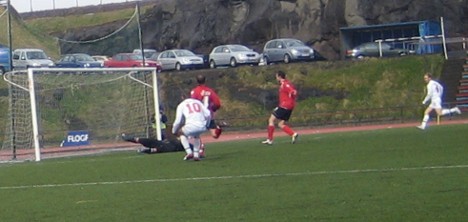 Rókur, close to making the points secure for HB, but the goalkeeper saved his shot.
HB had to play some anxious 5 minutes of time added on, but they held on to their lead and at the end won a narrow victory over B68 Toftir.
As other results went HB's way (again) today, HB is now up to second place on the table, 3 points adrift of EB/Streymur. And faith has been arranged so that these two teams meet in the next round of the Formula Division, on Sunday May 28, to battle it out for the top spot.
B68 have now lost 5 games in a row and are still facing relegation on 9th spot. But it is unbelievable to see how B68 can be placed below VB/Sumba, as they gave HB much more opposition today than VB/Sumba did last round, so if B68 can play with the spirit they did in the second half today, they will surely overtake VB/Sumba again soon…
---


All the results from round 09:

B36 Torshavn - NSÍ Runavík 1-1 (1-1)
1-0 Mikkjal Thomassen (pen)
1-1 Christian Høgni Jacobsen

KÍ Klaksvík - GÍ Gøta 1-1 (1-0)
1-0 Atli Danielsen
1-1 Sverri Jacobsen

VB/Sumba - EB/Streymur 0-5 (2-0)
1-0 Hans Pauli Samuelsen
2-0 Hans Pauli Samuelsen
3-0 Gert Hansen
4-0 Leif Niclasen
5-0 Arnbjørn Hansen

B68 Toftir - HB Tórshavn 1-2 (0-2)
0-1 Emil N. Leifsson
0-2 Páll Mohr Joensen
1-2 Øssur Hansen

May 22, 2006:
Skála - ÍF Fuglafjørður: 1-2 (1-0)
1-0 Bjarni Jørgensen
1-1 Høgni Zachariassen
1-2 Dánial Pauli Højgaard

| Faroese Soccer | Table | Fixtures/Results | Top Scorers |
| Home of Soccer and Equipment |