May 07, 2006: Round 07 of the Formula Division:

KÍ Klaksvík rob HB Tórshavn of victory in injury-time
KÍ Klaksvík – HB Tórshavn 2-2 (1-1)
0-1 Páll Mohr Joensen
1-1 Heðin á Lakjuni
1-2 Jákup á Borg
2-2 Paul Clapson

KÍ Klaksvík robbed HB Tórshavn ov victory in injury time, when Paul Clapson headed the ball into the goal for a 2-2 equalizer.
KÍ was the slightly better team in the first half, but it was HB who got the first goal of the match. A deflection gave Jákup á Borg the ball on the right and he played it to Páll Mohr Joensen, who bombarded it into the far corner 13 minutes into the match.
However, HB's lead only lasted for 6 minutes. HB's defense couldn't clear away the low cross from the right and Paul Clapson was clear in the 5-meters box, but goalkeeper Bárður Johannesen courageously threw his body in front of the shout and blocked it, but the ball bounced back to Heðin á Lakjuni who unhindered could put the ball into the HB goal for an equalizer.
Heðin á Lakjuni also should have made it 2-1 for KÍ, when he had a free header from close range, but he headed wide of goal.
Apart from that, there were few real scoring opportunities in the first half. KÍ also had a few corners, which caused the HB defense a few worries.
From the start of the second half, HB came storming out of the blocks spearheaded by new signing, Jovan Radinovic-Panic from Serbia, who sat on the bench in the first half. He was a class act, and with superb skills and pace he created havoc in the KÍ defense. This is a player whom we'll hear much more about in the coming weeks.
HB's pressure soon resulted in a goal. Jákup á Borg had the ball outside the penalty area and suddenly took a cheeky disguised shot around a defender and the seemingly paralyzed KÍ-goalkeeper only watched the shot go into the goal.
But HB wanted more and created several good opportunities. Just a few minutes after the goal, HB were awarded a penalty, when Jákup á Borg was brought down in the penalty area after he had combined well with Mortan úr Hørg on the right. But Rókur av Fløtum Jespersen's badly placed spot kick was easily saved by Meinhardt Joensen in the KÍ goal.
Rasmus Nolsøe also went close for HB with a free kick which forced the goalkeeper to give a rebound, but Jákup á Borg blasted the ball over the crossbar from a free position just in front of goal.
KÍ on the other hand showed nothing in the second half. – Well, not until the 90 minutes were gone.
From a free kick, they crossed the ball into the penalty area, and there, Paul Clapson raised above all others and headed the ball into the net via the upright for an injury-time equalizer.
The HB players protested furiously, as they claimed two HB players had been pulled down in the incident, and the assistant referee also had his flag up, but the referee didn't take any notice of that and allowed the goal.
The high balls were always going to be a problem for HB's defense, as they don't have players who are particularly strong with the head, and when KÍ in Paul Clapson have one with the opposite qualities, then HB's Achilles heal would always be the head!
With the one point, KÍ is still unbeaten after 7 rounds and are in second position, 1 point adrift of EB/Streymur, who drew with B36, who are another point adrift of KÍ.
The HB players will be disappointed for not having killed the game of with their domination of the second half, but they will on the other hand be very content with their play in the second half, and with their new player, Jovan Radinovic-Panic, who has strengthen HB's left hand side considerably.
HB's next two games are against VB/Sumba (on Thursday) and B68 Toftir and those ought to produce 6 points… and at the same time the other top teams have tougher games, so HB should climb up the table.

The pictures below:
HB (red and black jerseys) were close on several occasions in the second half, but did not score on these pictures.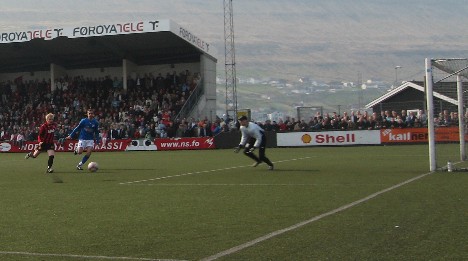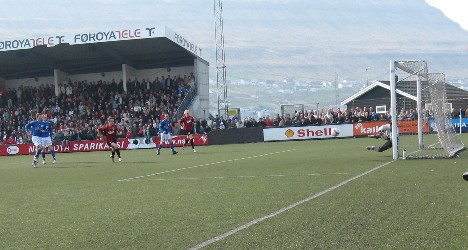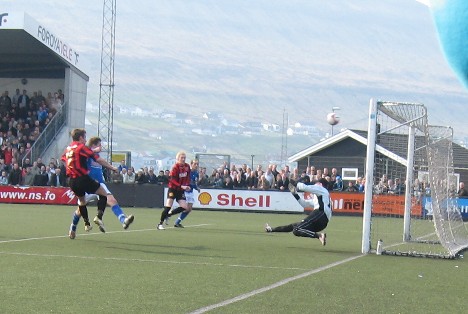 NSÍ Runavík – ÍF Fuglafjørður 6-1 (2-1)
NSÌ did what was expected of them today, when they beat lowly ÍF, and as other results went their way, (draws in B36-EB/Streymur and KÍ-HB), NSÍ are again only 5 points from the top. ÍF on the other hand are still stuck at the bottom with 0 points for 7 games. Today ÍF started brightly by taking the lead after only 4 minutes, but dreams of taking points were soon turned into a nightmare as NSÍ hammered 6 past them. ÍF's absolutely last chance of survival is to beat B68 Toftir on Wednesday.
Skála – GÍ Gøta 1-2 (0-2)
GÍ took only one minute to take the lead against Skála today with a penalty scored by Argentinean Gunnar Nielsen. GÍ are now equal with B36 on 3rd spot. Skála are having a terrible time at the moment and after today's loss, they're now side by side with B68 on the relegation spot. But Skála's miserable start to the season is much due to so many of their players being injured; 7 regulars. When they come back, Skála will surely move out of the relegation zone.
B36 Tórshavn – EB/Streymur 2-2 (2-1)
EB/Streymur retain their top spot on the table with their draw with B36 today. B36, who were without suspended Fróði Benjaminsen and Alex dos Santos, twice lead, but EB/Streymur leveled on both occasions. EB/Streymur's goal for 1-1 was a B36 owngoal. Late in the game, B36's Mikkjal Thomassen received a red card for two bookable offenses and will therefore be suspended for B36's game against GÍ on Wednesday. But before that, he had put B36 2-1 in front on a penalty, but that was cancelled out by a penalty to EB/Streymur a quarter of an hour before the final whistle.
VB/Sumba – B68 Toftir 3-2 (0-1)
VB/Sumba did the unthinkable when they came back from 2 goals down to beat B68 in the crucial bottom-match and climb up to 7th place on the table! Súni Fríði Barbá had put B68 up by 2 goals, the first a direct free kick and VB seemed dead and buried, but then midway into the second half, B68's goalkeeper received a red card for handling outside the penalty area. Just 5 minutes later, VB/Sumba took full advantage of the situation and reduced the score. Evrard Ble (Ivory Coast) then equalized with a direct free kick half an hour into the second half and 4 minutes from the end, he scored the winner for VB/Sumba with a long range effort. And suddenly 3 teams are below VB/Sumba on the table. But there is a long way to go and as Skála will probably improve sooner or later, VB/Sumba's goal will be to keep in front of B68. But if B68 win over ÍF on Wednesday and VB/Sumba lose against HB on Thursday, then B68 is already ahead of VB/Sumba again. Thrilling stuff in that end of the table also!
---


All the results from round 07:

NSÍ Runavík - ÍF Fuglafjørður 6-1 (2-1)
0-1 Atli Petersen
1-1 Óli Hansen
2-1 Bogi Løkin
3-1 Óli Hansen
4-1 Óli Hansen
5-1 Christian Høgni Jacobsen
6-1 Christian Høgni Jacobsen

Skála - GÍ Gøta 1-2 (0-2)
0-1 Gunnar Nielsen (pen)
0-2 Hanus Jacobsen
1-2 Bogi Gregersen (pen)

B36 Tórshavn - EB/Streymur 2-2 (2-1)
1-0 Hanus Thorleifsson
1-1 Owngoal
2-1 Mikkjal Thomassen
2-2 Egil á Bø (pen)


KÍ Klaksvík – HB Tórshavn 2-2 (1-1)
0-1 Páll Mohr Joensen
1-1 Heðin á Lakjuni
1-2 Jákup á Borg
2-2 Paul Clapson

VB/Sumba-B68 Toftir 3-2 (0-1)
0-1 Súni Fríði Barbá
0-2 Súni Fríði Barbá
1-2 Birgir Jørgensen
2-2 Evrard Ble
3-2 Evrard Ble

| Faroese Soccer | Table | Fixtures/Results | Top Scorers |
| Home of Soccer and Equipment |