Preview: Qualifying draw for the World Cup in Brazil 2014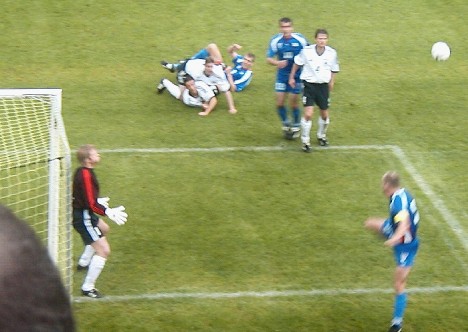 Photo above:
German goalkeeper Oliver Kahn under pressure at Tórsvøllur Stadium in Tórshavn 2003. Look how he's blowing air into his cheeks. – A clear sign of nervousness :-)
July 31, 2011: World Cup 2014 Qualifying Draw:

The draw for the qualification tournament for the World Cup in Brazil in 2014 was made on Saturday 30 July. The Faroe Islands were drawn in Group C together with Germany, Sweden, Ireland, Austria and Kazakhstan.
The Faroes have met all these teams previously, but not all of them in qualifiers. Let's take a look at the teams.
We'll begin from the bottom.
First some clarifications:
The UEFA ranking refers to UEFA's "Interim National Team Coefficients" published in June 2011.
FR = Friendly
WCQ = World Cup Qualifier
ECQ = European Championship Qualifier

Kazakhstan (current FIFA ranking: No. 126 / UEFA ranking: No. 45):
As the Faroes had moved up to the second lowest seeding-pot this time, the hope was to get one of the weakest countries from the bottom group, i.e. Liechtenstein, Luxembourg, Malta, Andorra or San Marino. The hope was also to avoid Wales and Iceland. In the end, the result was something in the middle: Kazakhstan.
As the last of the Soviet republics, Kazakhstan gained independence in 1992 and were soon accepted as members of FIFA. Having been part of the Asian Football Confederation in their early years after independence, Kazakhstan instead switched to UEFA membership in 2002.
Kazakhstan played two friendlies against the Faroe Islands in 2003 which the Faroes won 3-2 (Svangaskarð, 27 April) and 2-1 (Tórsvøllur, 29 April). Based on that, there will certainly be hopes for Faroese points in these two fixtures; especially at home.
According to Kazakhstan's results in the current qualifying round for EURO 2012, they haven't improved much since 2003 and their group results are quite similar to those of the Faroe Islands; typically losing by 2-3 goals. They have recorded one win against Azerbaijan. Interestingly, they are grouped with Germany and Austria, who all three will be in the Faroe-group next time.
The players of Kazakhstan's national team predominately ply their trade in their home country.
Previous meetings:
27 Apr 2003 – Svangaskarð, Toftir: Faroe Isl – Kazakhstan 3-2 (FR)
29 Apr 2003 – Tórsvøllur, Tórshavn: Faroe Isl – Kazakhstan 2-1 (FR)

--------

Austria (current FIFA ranking: No. 66 / UEFA ranking: No. 32):
Once again the Faroe Islands have been paired with Austria. – You could argue that that's where modern Faroese football history begins; with the 1-0 win over Austrian in 1990 in the Faroe's 1st ever competitive international.
But the Faroes teased Austria once again in 2008 with a 1-1 draw at home.
So there's no reason not to believe in more points against the Austrians. They will certainly fear it and feel the pressure of possible more humiliation.

12 Sep '90: Idrottspladsen, Landskrona(Swe): Far Isl–Austria 1-0 (ECQ)
22 May 1991: Stadion Lehen, Salzburg: Austria – Faroe Islands 3-0 (ECQ)
11 October 2008: Tórsvøllur, Tórshavn: Faroe Isl – Austria 1-1 (WCQ)
05 September 2009: UPC-Arena, Graz: Austria – Faroe Islands 3-1 (WCC)

--------

Ireland (current FIFA ranking: No. 33 / UEFA ranking: No. 15):
Ireland is the 3rd seeded team in the group. Interestingly, current Faroese coach Brian Kerr was the Irish manager when they faced the Faroe Islands in the qualification tournament for the 2006 World Cup.
In the match at Tórsvøllur Ireland had to fight hard for the 3 points in a 2-0 win.
If Ireland could be pressured in 2005, they can bee again in the next qualifying campaign as well, so a point at home is not just fantasy. – But much would have to go right for the Faroese team, however.
Previous meetings:
13 October 2004: Lansdowne Road, Dublin: Ireland – Faroe Isl 2-0 (ECQ)
08 June 2005: Tórsvøllur, Tórshavn: Faroe Islands – Ireland 0-2 (ECQ)

--------

Sweden (current FIFA ranking: No. 19 / UEFA ranking: No. 9):
The Faroe Islands have never met Sweden in a competitive international before, but have met in an indoor friendly in Sweden in 2001 where Sweden had fielded a team with domestic players only. The result was 0-0. As a curiosum, it could be mentioned that Zlatan Ibrahimović made his debut for Sweden in that match.
Previous meetings:
31 January 2001: Tipshallen, Växjö: Sweden – Faroe Islands 0-0 (Nordic)
(The match was officially a match in a Nordic competition which lasted for a couple of years before the idea was dropped again. But it can be treated as a friendly international).
--------
Germany (current FIFA ranking: No. 126 / UEFA ranking: No. 3):
For the second time, the Faroes have been grouped with Germany. It brings back mixed memories it was so extremely close for a sensational Faroese draw both at home an away. At home the Faroes held Germany for more than 88 minutes who then scored twice to tear apart Faroese hearts and in the away fixture the Faroes hit post-out for what could have been a 2-2 draw in the dying moments.
But if it could (almost) be done then, why not again…?
Previous meetings:
16 Oct '02: Niedersachsenstadion, Hanover: Germany – Far Isl 2-1 (ECQ)
11 June 2003: Tórsvøllur, Tórshavn: Faroe Islands – Germany 0-2 (ECQ)

--------

Faroe Islands: current FIFA ranking: No. 112 / UEFA ranking: No. 49.
--------

The qualification games will start in August 2012 after Euro 2012.
| Faroe Islands Football |
|Home of Soccer and Equipment |