Faroe Islands to play Ukraine in March 2007 – in snow?
April 08, 2006: Euro 2008 Match Schedule:
After the Faroe Islands were drawn to play two qualifying matches for EURO 08 at home in March and November 2007 against Ukraine and Georgia, the Faroese Soccer Federation tried to negotiate new dates for those matches with the two involving countries, as the weather in March and November often does not permit soccer to be played in the Faroes. All the other countries in the group also had to accept these agreements, before they could become valid. (See also related article:
UEFA Makes Euro 08 Fixtures Schedule Draw
)
Instead of playing at home to Georgia in November 2007, the two countries agreed to play the match in August of 2006 instead, and that was accepted by all the other parties.
The Faroese also wanted to switch the match against Ukraine from March 2007 to August 2007, but this agreement has not been accepted by all the other countries, and therefore the match will be played in the Faroe Islands on March 24, 2006.
There is just one problem: It might just not be possible to play at that date because of the weather. The picture below is taken in March 2006 and shows Tórsvøllur Stadium cowered in snow.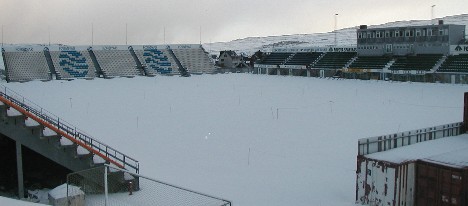 But there isn't always snow, but whatever the weather will be on March 2007, the pitch will be in horrendous condition and it will not be easy to play soccer on it.
The average temperature in March 2006 in Tórshavn was 2.9 degrees centigrade. When it was coldest in March 2006, it was -6.2 degrees centigrade. But with some luck, the weather can be quite glorious in March, as the highest temperature in March 2006 was 11.7 degrees centigrade. That's hot when we speak about the Faroe Islands – especially in March.
On March 2006, the temperature reached -5 degrees centigrade during the night, but crept up to +5 degrees during the day.
But we'll just have to keep our finger's (and feet) crossed, that there won't be any snow on March 2006, when the Faroe Islands take on Ukraine.
Related article: The Faroe Islands in Euro 08 Dynamite-Group