The Cup Competition 2014
Løgmanssteypið
(the Prime Minister's Cup)
---
Preliminary round
March 15, 2014

Giza/Hoyvík (2div) - B71 Sandoy (2div) 2-0 (1-0)
1-0 Bogi á Borg Eyðunsson
2-0 Bogi Hermansen

Undrið Tórshavn (2div) - MB Miðvágur (2div) 2-1 (1-1)
0-1 Magni selfoss
1-1 Pauli Ø. Mohr
2-1 Trygvi Absalonsen
---

1st round
Teams without brackets are premier division teams.
April 05 & 06, 2014

April 05
FC Suðuroy (1div) - NSÍ Runavík 0-4 (0-2)
0-1 Jens Joensen
0-2 Jens Joensen
0-3 Árni Frederiksberg (pen)
0-4 Jákup Andrias Gaardbo


Víkingur - Skála 2-0 (2-0)
0-1 Owngoal (Jákup Jacobsen)
0-2 Finnur Justinussen

According to the premier division table, it was an encounter between two bottom-teams although that term doesn't quite accurately reflect Víkingurs qualities.

The 13th minutes proved to be the lucky one for Víkingur who took the lead with a deflected Súni Olsen free kick before Finnur Justinussen doubled the advantage around the half-hour.

Skála never managed to threaten at the other end.


AB Argir - TB Tvøroyri (1div) 1-1 (0-0)
0-1 Karstin Højgaard
1-1 Ragnar Tausen
Extra time: 0-0
Penalties: 3-1
AB Argir win 4-2 on aggregate

It was post-out – literarily for - 1st tier team TB Tvøroyri who hit the post twice in the penalty shootout as they were ousted by premier division side AB Argir.

It was tense throughout the match and after a spell of TB domination with close to 42 year-old veteran Óli Johannesen as forward, super-sub Karstin Højgaard gave AB the lead with at header in the 68th minute – seven minutes after he had come on.

However, Ragnar Tausen Tausen forced extra time as he was played clear to equalize three minutes from the end of normal time.

After deadlock in the extra 30 minutes, it was time for penalties where Højgaard was the first man for AB to shoot and he did that to perfection to take the lead. Martin Tausen then struck the upright for TB before Bárður Olsen safely converted his to go 2-0 up in the shootout. Ragnar Tausen then scored for TB before TB goalkeeper Ivan Stojkovic saved from AB captain Jónas Stenberg, but just to see TB miss again as Rógvi Joensen hit the post. Jobin Drangastein thereafter made it 3-1 for AB in the penalty shootout before Heini Mortensen fired over for TB to send AB through to the quarter finals.



ÍF Fuglafjørður - Undrið Tórshavn (2div) 14-1 (7-0)
1-0 Kristoffur Jakobsen
2-0 Clayton Soares
3-0 Kristoffur Jacobsen
4-0 Karl Løkin
5-0 Clayton Soares
6-0 Karl Løkin
7-0 Bogi R. petersen
8-0 Owngoal (Símun Waag Høgnesen)
9-0 Clayton Soares
10-0 Pól Magnus Petersen
10-1 Mikkjal Christiansen
11-1 Clayton Soares
12-1 Clayton Soares
13-1 Pól Magnus Petersen
14-1 Clayton Soares

"Undrið" means "the wonder" or miracle, but that certainly didn't happen today – at least not for Undrið. Enough said.



Giza/Hoyvík (2div) - EB/Streymur 1-6 (0-1)
0-1 Niels Pauli Danielsen
0-2 Arnbjørn Hansen
0-3 Owngoal (Poul Thomas Dam)
0-4 Leif Niclasen
1-4 Áki Dam Egholm
0-5 Arnbjørn Hanen
0-6 Arnbjørn Hansen

After FC Hoyvík/Giza had conceded a goal in the first minute of the match, they held that score-line until 10 minutes into the second half when Hansen made it 2-0 for the visitors.

KÍ Klaksvík - 07 Vestur (1div) 5-0 (2-0)
1-0 Ndende Adama Guéye
2-0 Owngoal (Emil Mikkelsen)
3-0 Ísak Simonsen (pen)
4-0 Hjalgrím Elttør
5-0 Heðin á Lakjuni

KÍ had many of their starters sideline through injury, but their pre-match worries proved unfounded as there was simply to much difference between the premier division team and 07 Vestur who were relegated last season.

In added time Heðin á Lakjuni, who had been dragged out of retirement, made it 5-0 with a header from a cross from Hjalgrím Elttør who had made it 4-0 five minutes earlier.


B68 Toftir - Royn Hvalba (3div) 8-0 (5-0)
1-0 Óli Olsen
2-0 Óli Olsen
3-0 Kristian Anton Andreassen
4-0 Óli Olsen
5-0 Hákun Edmundsson
6-0 Ari johannesen
7-0 Emil Ronaldsson
8-0 Andrias á Líknagøtu
Well, the result tells the story accurately: a top tier team against a 4th tier team.


April 06

HB Tórshavn - B36 Tórshavn 3-2 (2-0)
1-0 Fróði Benjaminsen
2-0 Rógvi Holm
3-0 Heini Vatnsdal
3-1 Adeshina Lawal
3-2 Rasmus Dan Sørensen

At 3-0 down, B36 looked dead and buried, but set up a grandstand finish as they scored two late goals and went close for the equalizer, but HB survived the scare to go through to the next round of the cup competition which they haven't won since 2004.

However, it wasn't exactly by impressing that HB had gone three goals up, but mainly because of poor defending by B36 and not least at the worst timing wiith two of the goals coming close to either side of half time.

HB had made the brighter start though and early on B36 had to save off the line after a cross from a free kick before HB went on to take the lead after 14 minutes after a defensive blunder by right back Eli Falkvard Nielsen who mistakenly played Fróði Benjaminsen completely clear in the penalty area, which you don't do unpunished, and the HB captain had the easiest of tasks of sending his team in front.

After that, HB frequented less around the B36 penalty area, and instead B36 were coming more and more forward, but without managing to really test HB stand-in goalkeeper Heðin Stenberg, who dealt comfortably with the couple of high crosses.

However, HB doubled their lead on the stroke of half-time as centre-back Rógvi Holm headed home from a corner.

The minute hand had just made one round in the second half when HB made it 3-0 as Heini Vatnsdal had been released by Andrew av Fløtum's brilliant pass, and clear with the advancing goalkeeper, Vatnsdal coolly slipped the ball past him and into the empty goal.

It should have been game over and it looked very much like that for long periods of the second half although B36 played quite well, but failed to threaten in the last third of the pitch.

But then, almost out of nothing, B36 suddenly pulled a goal back with eleven minutes remaining of normal time. B36 were still appealing for a handball when Adeshina Lawal turned and from 20 metres caught the HB goalkeeper by surprise with a well place strike to give B36 some hope.

Hope turned into belief just three minutes later as Rasmus Dan Sørensen – eleven minutes after coming on – turned a curling and inviting cross from Jákup á Borg into the goal to make it 3-2.

Just moments later B36 right back Falkvard Nielsen's nightmarish match ended abruptly as he was given a red card for a second bookable offence. However, it didn't stop B36 from piling on the pressure against a shaky-looking HB-team that was staring more and more at the clock while á Borg created danger on the left flank, but the finishes from himself and Lukasz Cieslewicz went close by the far post.

Sometimes it's said that the loser learns most. We'll see next Friday when the same teams meet again in the league.

The draw for the quarter-finals of the cup will be made on Monday evening.
---
Quarter-finals

April 27, 2014

AB Argir - HB Tórshavn 0-2 (0-1)
0-1 Heini Vatnsdal
0-2 Andrew av Fløtum

The first quarter of an hour had been an even affair when HB took the lead after 17 minutes following a scramble from a corner, and after AB goalkeeper Heðin Stenberg had made a diving save from Pál Mohr Joensen's initial effort, midfielder Heini Vatnsdal found the back of the net from the rebound with a low shot between friends and foes.

HB now took control of the match and Vatnsdal was close to doubling the lead just a couple of minutes later, but his effort went just wide of the post.

Eventually AB improved again, and shortly before the half-time whistle a blunder by the HB defence left forward Karstin Hansen clear, but he squandered the golden opportunity as his lob lacked power and also went wide of goal.

From the start of the second half it was all HB again and AB hardly touched the ball on the HB half in the first 20 minutes. HB often combined very well this period and should have increased the lead as they created clear-cut chances, but poor finishing and fine goalkeeping from Stenberg kept the score-line tight, and especially a double save from Fróði Benjaminsen's effort from close range deserves credit.

Stenberg had otherwise been reserve to Hans Jørgensen, but was preferred today – maybe getting credit for a couple of fine displays as he was actually on loan to HB as emergency-replacement for the injured Teitur Gestsson in the two matches against B36.

Midway through the half, AB started getting more forward again, but a couple of half-chances was all there was, however, and then HB sealed their semi-final birth 10 minutes from time as Andrew av Fløtum got clear after a long free kick, and although he miss-hit his initial effort, he was lucky to get another opportunity which he hammered through the goalkeeper's legs and under the crossbar and in to make it 2-0. 


Víkingur - KÍ Klaksvík 3-0 (1-0)
1-0 Finnur Justinussen
2-0 Hanus Jacobsen
3-0 Finnur Justinussen

Finnur Justinussen sent cup holders Víkingur on winning course after eight minutes. 
Hjalgrím Elttør was close to equalizing for KÍ early in the second half, but Geza Turi in the Víkingur goal managed to push the ball onto the post with a wonderful save and instead it was Víkingur who moments later doubled their lead as Sølvi Vatnhamar and Hallur Hansson set up Hanus Jacobsen with the shot from the edge of the penalty area that went in off the crossbar.

Hjalgrím Elttør was close to pulling a goal back shortly after, but Víkingur were saved by the crossbar and instead cemented their win when Justinussen scored his second goal of the afternoon to make it 3-0 in added time.



EB/Streymur - NSÍ Runavík 4-3 (0-2)
0-1 Árni Frederiksberg
0-2 Klæmint Olsen
0-3 Klæmint Olsen
1-3 Niels Pauli Danielsen
2-3 Arnbjørn Hansen
3-3 Arnbjørn Hansen
4-3 Arnbjørn Hansen

EB/Streymur, who have been part of every cup final since 2007, were staring defeat in their eyes as they were three goals down, but 11 minutes from the end of normal time, EB/Streymur scored three times to force extra time where they scored the winner within five minutes.

Árni Frederiksberg had given the visitors the lead midway through the first half, and on the stroke of half-time, Klæmint Olsen headed home from a corner to double the lead.

NSÍ seemed to be cruising into the semi-finals when Olsen headed home again from a free kick in the 67th minute.

EB/Streymur then got a glimmer of hope when Niels Pauli Danielsen pulled a goal back in the 79th minute and when Arnbjørn Hansen reduced the deficit to just one goal four minutes later, it was suddenly game on again, and with a minute remaining of normal time, Hansen scored with a scissors kick from a long throw-in to force extra time.

And within five minutes of extra-time, Hansen had completed his hat trick to book EB/Streymur a ticket for the semi finals.



Postponed to
May 14:

B68 Toftir - ÍF Fuglafjørður 4-3 (3-1)
1-0 Owngoal (Bartal Eliasen)
2-0 Hákun Edmundsson
2-1 Clayton Soares
3-1 Mads Rosenberg
3-2 Frank Poulsen
4-2 Owngoal (Poul N. Mikkelsen)
4-3 Clayton Soares


(All teams are premier division teams).

---
Semi-finals

1st leg

May 21, 2014:
Víkingur vs EB/Streymur 4-1 (1-0)
1-0 Súni Olsen
2-0 Hallur Hansson
3-0 Súni Olsen
3-1 Niels Pauli Danielsen
4-1 Filip Djordjevic

3-1 would have been tough to turn around for EB/Streymur on home soil in the second leg of the semi-finals, but with Filip Djordjevic's goal to 4-1 in the 90th minute, the task now looks virtually impossible for EB/Streymur who look set to miss out on their first cup final since 2006 when they were ousted after the semifinals.

It also looked impossible for EB/Streymur when Súni Olsen made it 3-0 for Víkingur with his second goal of the evening just after the hour-mark, but as Niels Pauli Danielsen pulled a goal back six minutes later, EB/Streymur would go through with a 2-0 win at home. However, Djordjevic tore apart that script with his late goal for 4-1.

Víkingur had opened the scoring from a Súni Olsen penalty 10 minutes from half-time and 10 minutes after the break Hallur Hansson doubled the lead with a header from Olsen's free kick.

The second leg will be played on 18 June.


June 05, 2014:

B68 Toftir vs HB Tórshavn 0-1 (0-0)
0-1 Levi Hanssen

B68 will rue missed chances in both halves where HB goalkeeper Teitur Gestsson kept them at bay with crucial saves, although HB overall just had the edge.

HB went close in the early minutes with a powerful shot from Fróði Benjaminsen going just wide of the post.

But B68 replied quickly and had two golden opportunities to take the lead where first Óli Olsen just steered his attempt wide of the far post, and moments later Andrias á Líknagøtu was clear on goal where Teitur Gestsson blocked the attempt.

HB then started to dominate proceedings, but lost that upper-hand when Christian R. Mouritsen, who played on top today, went off injured after 20 minutes. HB were already struggling in attack as they miss the credentials of injured Andrew av Fløtunm.

Therefore it's handy to have gifted set piece specialists and in Alex dos Santos – the naturalized Brazilian and now with a shaven head so he looks exactly like Roberto Carlos – HB have one that also shoots like the former world cup winner as Santos bombarded a free kick from 20 metres on the post five minutes from half-time. It really deserved better.

Inside the first ten minutes of the second half B68 so nearly took the lead with two golden opportunities, but Gestsson made two fabulous saves to deny á Líknagøtu and Hákun Edmundsson.

Instead  HB in the 58th minutes went on to take the lead when  a ball fell to Levi Hanssen who tried his luck and – with the help of a deflection – the ball looped into the far top corner.

Gestsson had to be alert again 10 minutes later; tipping the always dangerous Olsen's excellent shot over the bar.

But apart from that, B68 didn't come close to the equalizer in the last 20 minutes where in fact HB had the better opportunities.

The second leg will be played on 18 June.


---
2nd leg - June 18, 2014:

HB Tórshavn - B68 Toftir 1-0 (1-0)
1-0 René S. Joensen

HB have reached their first cup final since 2007 and was never under any real threat from B68, except from a Jóhan Dávur Højgaard header late in the second half where Levi Hanssen had to save off the line.

Before that, HB had squandered three clear-cut scoring opportunities where René S. Joensen, Fróði Benjaminsen and Poul Ingason should have gotten more out of golden opportunities, although it wasn't until after 15-20 minutes that HB started to dominate.

HB scored their goal six minutes through the second half when Levi Hanssen found Alex dos Santos on the left who used Brazilian magic to get past two defenders – Pelé wouldn't have done it better in his prime - as he lifted the ball over the defender to get to the by-line to make the cross, which still needed some luck however, as it was a B68 Toftir defender who was at the end of the cross, before it after a pinball machine sequence was slotted home by René S. Joensen.

HB created three more clear-cut opportunities, but again they were squandered.

But it mattered little as B68 never managed to threat at the other end where Teitur Gestsson never had to make a save.

EB/Streymur - Víkingur 2-0 (1-0)
1-0 Hans Pauli Samuelsen
2-0 Hans Pauli Samuelsen

In the end, EB/Streymur paid the price for their tactical blunder in the first leg where they gambled in the closing stages and lost 4-1 instead of 3-1, which would have meant that 2-0 at home would have qualified them for the final.

Instead they had to win 3-0, and although it was close in the end, there was no cigar.

EB /Streymur got real hope, though, when Hans Pauli Samuelsen after only five minutes scored from long distance – assisted by the strong wind which made it very difficult to play football, and in fact, the goal was registered as a Geza Turi owngoal as the ball had gone in off the woodwork and the back of the goalkeeper.

Samuelsen scored again  - this time without help from the goalkeeper – 20 minutes through the second half to set up a frantic final 25 minutes where Víkingur just managed to hold on to their slender lead and qualify for their third cup final in succession as back to back winners.



---
Final: August 30, 2014
Tórsvøllur in Tórshavn

Víkingur - HB Tórshavn 1-0 (0-0)
1-0 Hallur Hansson on 88 minutes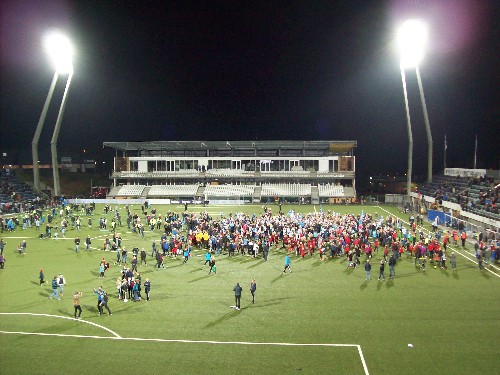 Víkingur claim 89th minute winner to win third cup title in a row

The first half, played in a high tempo, was more intense than well played, where Víkingur had a slight edge in the first quarter of an hour, and Hallur Hansson and Súni Olsen had goes from the edge of the penalty area, but without testing Teitur Gestsson in the HB goal.

After an even mid-period, HB got the upper hand in the last quarter of an hour, and after 37 minutes striker Poul Ingason had an attempt with a downwards header, but right in Víkingur goalkeeper Geza Turi.

But on the stroke of half time, Víkingur so nearly took the lead when Hansson had a clear sight of goal from the edge of the penalty area, but Gestsson stretched to make a fantastic save.

HB started strongly in the second half and dominated for most of the 45 minutes, and Alex dos Santos and Jóan Símun Edmundsson had qualified finishes from long range, but over the goal in both incidents.

And on 76 minutes HB should have taken the lead as Pál Mohr Joensen took advantage of a slip in the Víkingur defence to get into the penalty area where he just had to pick out the clear Levi Hanssen, but the simple pass had a wrong addresss!

Edmundsson had another decent long range effort after 86 minutes, however, as the teams were starting to prepare for extra time, right back Bárður Hansen received the ball on the HB half and made a cross in front of goal where Hansson got in front of the defender to head home and secure Víkingur the cup title – their 3rd in succession.
Whole match, re-live:
Faroe Islands Football homepage
Soccer and Equipment homepage