December 2010 Round-Up:


31 December, 2010

Two more players leaving relegated AB Argir
Just before Christmas, B68 Toftir announced that they had signed 21-year old AB midfielder Dion Splidt on a one year loan deal.
Yesterday it was announced that 29 year old Kenneth Jacobsen would return to B36 after 3 years with AB. At AB, Jacobsen has had a midfield role, but when he played for B36, he used to play in defence, and was part of the very strong B36 defence in 2005 who only conceded 17 goals in the league – the key to B36's title that year as they only managed to score 38 goals. - Only 4 teams scored less than B36!
In additions to these two, AB have also lost Heðin Stenberg (goalkeeper), Tehe Aristide and Mortan úr Hørg (defenders), Evrard Ble (midfielder) and Stig-Roar Søbstad who transferred to B36 at the halfway stage last season and recently signed for B68.
With so many players having left AB, FC Suðuroy will be favourites to win the 1st division next season, but will AB still be good enough to stay in front of TB Tvøroyri to take the second place for promotion?
----

Poul N. Poulsen returns to FC Suðuroy
And speaking of FC Suðuroy, they have been bolstered by midfielder/defender Poul N. Poulsen who has returned after two years with B68 and three with Skála. It will be very surprising should FC Suðuroy not be in either of the promotion spots come October next season.
----

E-cards from around Europe to NSÍ Runavík
NSÍ Runavík's website say they have received a bunch of Christmas and season's greetings e-cards from football clubs around Europe; for example from Atletico Madrid, FC Porto, Shakhtar Donetsk, Olympiacos and several more. You can see the cards on NSÍ's website here.
----
And from SoccerAndEquipment.com, it's time to wish all of you a happy new year! :-)

---

22 December, 2010

Altli Gregersen returns to Víkingur after half a year at Ross County
Central defender Atli Gregersen who joined Scottish 1st division club Ross County last summer has decided to return back home to Víkingur after an unsuccessful spell in Scotland where he failed to make an impact and has spent most of the time on the bench. His only appearance for the club was when he came on as a substitute in the league cup against Dundee United who won 2-1 after extra time.
Here's an interview with Gregersen in "the Press and Journal" shortly after he had joined Ross County in the summer.
--------

Gunnar Nielsen returning to Manchester City
According to BBC, Faroese goalkeeper Gunnar Nielsen will be returning to Manchester City when his loan spell at Tranmere Rovers ends in January.
Nielsen hasn't played much since he was loaned out to Tranmere in July as he got injured early on and played only his second league match for the club when he returned to action in December. Because of snow, several of Tranmere's matches have been postponed lately. Here's an audio interview with Gunnar Nielsen at BBC (scroll down a bit) where the talks about his injuries amongst other things.
In his 3 years in England, Nielsen has only played 9 1st team matches (if we've got our statistics correct).
--------
As this is probably the last update before Christmas: Merry Christmas to all of you! :-)


---

19 December, 2010

FC Suðuroy bomber Jón Krosslá Poulsen moves to HB Tórshavn
Champions HB Tórshavn have announced that they have signed FC Suðuroy striker Jón Krosslá Poulsen who scored 10 league goals for FC Suðuroy in 2010. The 22 year old forward, who can also play in midfield, strikes the ball with both power and precision and could easily become a 15-goal-plus goal scorer for a top team.
Last August, Poulsen became FC Suðuroy's (then VB Vágur and VB/Sumba are included) all-time record goal scorer when he scored his 56th goal for the club and thereby surpassing retired Egill Steintórsson who scored 55 goals.
Krosslá Poulsen has been represented in various youth teams of the Faroe Islands and scored the goal when the Faroese U19 team beat Norway 1-0 in 2006. He has yet to be picked for the Faroese senior squad, but this website has previously suggested (in the match report for HB-FC Suðuroy) that he should be given the chance to prove himself.
HB sign AB Argir goalkeeper Heðin Stenberg
HB have also signed goalkeeper Heðin Stenberg from relegated AB Argir. Although Stenberg is a fine goalkeeper and could play as 1st choice keeper for some clubs, he's mostly intended as cover for HB's Polish goalkeeper Marcin Dawid who should be able to hold on the no. 1 spot if he performs at the same level as he did in the latter stages of the season where he seemed much more secure in dealing with the high crosses that he often has been.
--------

Kasper Schultz leaves FC Suðuroy
FC Suðuroy recently announced on their website that Danish central defender Kasper Schultz will not continue for the club next season as he simply wasn't interested in playing in the 2nd tier.
--------

Faroese international Bogi Løkin joins ÍF Fuglafjørður
22-year old midfielder Bogi Løkin has switched from NSÍ Runavík to ÍF Fuglafjørður where he will be united with family members Abraham Løkin, who is ÍF's coach, and younger brother Karl Løkin who likewise Bogi plays in midfield. The move wasn´t quite unexpected as Bogi more or less hinted it between the lines in a recent interview in the newspaper Sosialurin.
Bogi Løkin has been capped 16 times for the Faroe Islands and has scored one goal; in the 1-1 draw at home against Austria in 2008.
--------

What happened to Faroe Islands top scorer Rógvi Jacobsen?
When Rógvi Jacobsen scored the Faroese goal in the 3-1 defeat away to Italy on 21 November 2007, he became the all time top scorer for the Faroe Islands with his 10th goal for the country. But that was his last goal in the Faroese jersey so far and could remain so as Jacobsen was hit with a career threatening injury in 2008.
After a short stay in Norway, Jacobsen returned to the Faroe Islands in the second part of the 2008 season to help relegation-threatened KÍ Klaksvík. The mission succeeded for KÍ as they avoided relegation (although it went wrong the following year), but Jacobsen got a thigh injury which kept him sidelined for the most of the 2009 season (he had then joined ÍF Fuglafjørður). Jacobsen appeared to be fit again at the start of the 2010 season, but a few games into the season it went wrong for him again as the thigh injury had now relocated to his foot, so to speak, and the striker didn't enter the pitch again for the rest of the season.
Jacobsen has since visited specialists in Ireland, recommended by Faroe Islands' Irish coach Brian Kerr, and they have given him a special training program in order to get fit again. Although Jacobsen says there has been certain progress, there is still a long way to go and he wasn't sure if the injury would spell the end of his career or not. But he was hoping for the best.
But because of the uncertainty with his future, Jacobsen has no contract with any club. But should he recover, the clubs will soon be in line to get his signature.
---

12 December, 2010

Levi Hansen returns to EB/Streymur
22 year old Levi Hansen, who changed from EB/Streymur to HB Tórshavn in 2010, has returned to EB/Streymur where he was for two seasons, in 2008 and 2009. Hansen is a quite versatile player with stable performances and plays mostly in midfield, but also at the back position, and it was in that position in the latter stages of the season where he played his best matches for HB.
However, personally Hanssen doesn't really thrive at the back position, he expressed, and that was his main reason for switching back to EB/Streymur where he's more likely to play in midfield than at HB, where the intention was to preferably use him as right back.
Hanssen is originally from B36 where he made his début in the top division as a 16 year old in 2004, playing a couple of matches. The following year Hanssen played in most of B36's matches where they pipped HB and Skála for the title on the last day of the season.
Hansen thereafter went to Skála where he stayed for two seasons before he joined EB/Streymur in 2008.
--------

Jann Ingi Petersen to Skive IK, Denmark
26-year old NSÍ Runavík midfielder Jann Ingi Petersen has moved to Danish 1st division club Skive IK, with whom he has signed a 6-month contract.
It's not the first time Petersen has joined a Danish club as he has previously appeared for Fremad Amager in 2004. Much was expected of the youngster then, who is originally from B68 Toftir, but his 3-year contract in Denmark was cut short and he returned to B68 after a year which didn't quite live up to expectations.
As B68 in the meantime had been relegated from the top flight, Petersen's career seemed somewhat derailed and he also lost his place in the national team. But when B68 re-emerged to the top division in 2008 it was with Petersen in a leading role. Neighbours and fierce rivals NSÍ Runavík noticed this and signed him in 2009 and he has been among their best players. His good performances in recent years have also re-launched his international career. Petersen has earned 23 caps for the Faroe Islands.
--------

Tórður Thomsen on trial in Iceland
It's a but funny that sometimes our loyal readers from abroad know more about what's happening in Faroese football than we do ourselves in the Faroes. That was the case last week when one of our spies in England, Mike Morgan, told us on Monday that B68 Toftir goalkeeper Tórður Thomsen had been on a trial with Icelandic 2nd level club BÍ/Bolungarvík. The story wasn't published in Faroese media until Thursday.
The coach of BÍ/Bolungarvík is Guðjón Thorðarson who was also coach for Crew Alexandra when Thomsen was on a trial with them in July 2009. The coach is said to have been well satisfied with what he saw – including a match against Leiknir Reykjavík which ended 1-1. It's not been decided yet whether the trial would materialize into more. Reportedly the decision should be made soon.
Our spy Mike Morgan is an Englishman who runs a website about Icelandic club IA Akranes (http://www.freewebs.com/iauk). Akranes is not quite unknown to Faroese football as former Faroese internationals Uni Arge and Julian Johnsson have previously played for the club.
But Mike also has a soft spot for Faroese football, and as a Tranmere Rovers supporter for 30 years, he has the chance of witnessing Faroese goalkeeper Gunnar Nielsen at first hand. In the photo below, Mike's son is holding Gunnar Nielsen's goalkeeper shirt inside Tranmere's dressing room early on in the season when there was an open day where the stadium was open for supporters to look around and the players trained for them (Gunnar Nielsen was in Estonia with the Faroe Islands at that point, however).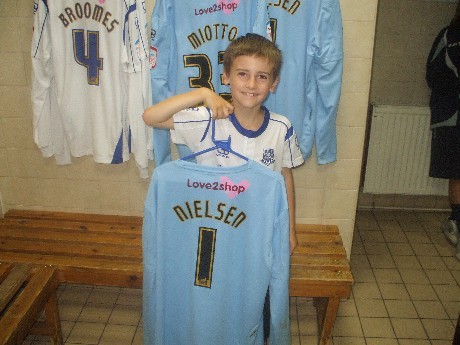 --------
Faroese Football history
It's time to learn Faroese!
The Football Association is in the process of publishing the Faroese football history from its beginning in 1892, when the first club was founded, to present time. The whole work is in 3 volumes, with the first volume concentrating on the beginning to 1959. Volume 1 is titled "Teir reystasu dreingir í Norðum" (approximately: "The Heroic Boys from the North"). Volumes 2 and 3 have not been completed yet.
The author is Suni Merkistein, who also authored HB Tórshavn's history, "Koyr á, HB". Merkistein is also Faroese Radio's main football reporter.
Hitler's link to Faroese football
In an interview on radio channel Rás2.fo, Merkistein told how the research for the book had uncovered that Reinhard Heydrich, who later became one of Hitler's closest allied, most likely had been in a football team that played against a local side in 1923. Heydrich had been part of the crew of a German cruiser, Berlin, which had visited the Faroe Islands. The crew had then played a match against a Faroese team, and most likely Heydrich has been part of the team as he apparently was quite athletic, especially in fencing.
Wikipedia says that Heydrich was attacked by British-trained Czech agents on 27 May 1942 sent to assassinate him in Prague (see: Operation Anthropoid). He died approximately one week later due to his injuries.
---

05 December, 2010

Norwegian striker Stig-Roar Søbstad to B68
B68 have announced that they have signed Norwegian striker Stig-Roar Søbstad. Søbstad originally joined AB Argir in the second half of the 2009-season where he proved to be a prolific goals scorer with 5 goals in 12 matches. He started the 2010 season even more impressively by scoring 5 goals in the first 4 rounds of the league, but his 6th goal in round 10 proved to be the last of the season. 15
Due to financial problems, AB Argir didn't have the means to hold on to the striker who switched to B36 Tórshavn midway through the season. However, Søbstad found it difficult to make an impact at B36 and failed to score a single goal in 7 appearances and spent much time on the bench. (In the last 6 matches he didn't even figure on the match sheet)
How to play for two different teams in the same round
That's actually what Stig-Roar Søbstad did. Here's how it happened:

Søbstad played the first 15 rounds of the league for AB Argir. But AB's 15th round-match was played almost 2 months earlier than the other 4 fixtures of that round. When the rest of those other 4 fixtures were finally played two months later, Søbstad had switched clubs, and was now playing for B36 in their 15th round-match against FC Suðuroy. That meant that Søbstad actually played two matches in round 15: one for AB Argir and one for B36 Tórshavn.
Theoretically he could therefore have scored goals for two different clubs in the same round. – Now, that is a bit bizarre. The rules probably allow it, but it is odd, and the question is if it should be allowed. That also means that Søbstad could have played 28 league matches although the league has only 27 rounds! – Hmm…, right?
--------

Magnus Olsen to NSÍ Runavík
B36 Tórshavn has lost yet another player as 24 year old Magnus Olsen, who mostly plays on the right hand side at either the back position or in midfield (but who can play as a forward too), has switched to NSÍ Runavík. Olsen is originally from B71 Sandoy, but joined B36 in 2008 and was an integral part of the team in his first two seasons at he club, but had a lesser role this season.
It's not decided yet whether Serbian central defender Dmitrije Jankovic will stay for next season or not. He was one of the best players in the league in 2008, but didn't quite reach that same level in 2010 (in 2009 he was back in Serbia).
--------

Polish coach Piotr Krakowski stays at B71 Sandoy
There had been some speculations whether B71 coach Piotr Krakowski, who some linked to the vacant coaching position at B36 Tórshavn, would continue for B71 next season, but the club have now announced that the Polish coach will indeed stay at B71 for another season.
--------

Egil á Bø retires from international football
36 year old EB/Streymur defender Egil á Bø has announced his retirement from international football. Á Bø had already become an elderly gentleman when he finally made his debut for the Faroe Islands at the age of 34 in a friendly international against Portugal in 2008. Á Bø joked that he had actually abandoned the dream of playing for the Faroe Islands 10 years before he was finally selected. In his 14 appearances for the Faroes, á Bø scored 1 goal – in the 3-1 defeat away to Rumania in a World Cup qualifier in 2009.
Á Bø, who changed his last name from Zachariassen some years ago, has still not decided if he will also retire from club football or if he'll take yet another season.
--------

Rubeksen brothers join Norwegian club Volda
The brothers Hendrik and Thomas Hans Rubsesen have signed for Norwegian club Volda (full name: Volda Turn og Idrottslag) who play in the 3rd division (4th level).
Older brother Hendrik (27) played as left back for HB in the recent season. Originally he is a forward, but as HB were short of a left back, Hendrik was re-schooled and used as an emergency solution. The solution proved to be a wise one which caught the eye of national coach Brian Kerr who later selected Hendrik to the national team.
Younger brother Thomas Hans (24) is as forward and played the second half of the season for B71 Sandoy. Thomas Hans has earlier played for the Faroese U21 team.
--------

Kristoffur Jacobsen to KÍ Klaksvík
22-year-old midfielder Kristoffur Jacobsen, who switched from KÍ Klaksvík to EB/Streymur when KÍ were relegated in 2009, has decided to return back to KÍ after just one season for the cup winners. Jacobsen has for long been seen as one of KÍ's most talented players, but he found it a bit difficult to produce the goods for EB/Streymur. Jacobsen has been an integral part of the Faroese U21 team that has performed so well in the last couple of years, and where Jacobsen has always excelled.
--------

Crew Alexandra interested in Rógvi Poulsen
HB winger Rógvi Poulsen (21) and B36 defender Odmar Færø (21) have been on a trial at the English League Two football club Crew Alexandra. No contracts were written this time around, but apparently Poulsen had made such a positive impression that they might want to have him back for closer inspection.
--------

FC Suðuroy preparing for speedy return to the top flight
FC Suðuroy, who were relegated at the end of the season, are preparing for a speedy return to the top flight.
From AB Argir they have signed 30 year old right back Mortan úr Hørg, where he has been for a couple of years after joining HB Tórshavn in 2006 after he had been selected - somewhat unexpected to some – for the national team where earned five caps. – But it's a while ago now. Úr Hørg is an original FC Suðuroy player, you could say, as he before his shift to HB in 2006 has represented Sumba and VB Vágur who later has turned into FC Suðuroy.
Apparently, several of the top division clubs have tried to get hold of the talented 19-year-old central defender Heini Vatnsdal, but he has rejected all approaches and has instead signed a two-year deal with Suðuroy. Vatnsdal has recently been selected for the Faroese U21 team.
New man at the helm is Pól F. Joensen who releases Jón Pauli Olsen. Joensen used to play for TB Tvøroyri in the eighties and nineties, so he's really from "the enemy" and was also TB's coach in 2009. He is also currently coach for the Faroese U17 team. Joensen has also represented the Faroe Islands on one occasion (in 1990).
--------

Hallur Hansson to get new coach at Aberdeen
In November's roundup we wrote about Hallur Hansson's debut in the Scottish Premier League for Aberdeen. Four days later Aberdeen's manager Mark McGhee quit his job (not that is was Hansson's fault) after a string of bad results which have left Aberdeen in second last place from bottom. Only time will tell if this will have any impact on the future of Hansson and Gilli Sørensen.
Aberdeen have so far not named a new manager. Aberdeen's match against Celtic on Saturday was postponed because of bad weather.


Faroe Islands Football News
Soccer and Equipment home