April 2010 Round-Up:


---

28 April, 2010
Brian Kerr picks Irish friend John McDonnell as his assistant

Irishman John McDonnell has been named assistant coach for the Faroe Islands where he'll assist compatriot and head coach Brian Kerr together with Jens Martin Knudsen, former goalkeeper, most famous for his bobble hat.
Kerr knows 45-year-old McDonnell from the time when Kerr was coach at St. Patrick's Athletic and McDonnell was the captain of the team that won the Irish title in 1996. Wikipedia describes "Johnny Mac", as he was nicknamed, as a "no-nonsense tough defender".
And maybe that's one of the things Kerr wants his Faroese players to learn as there won't be much room for nonsense-defending when they face Italy, Serbia and Rumania (all competing in this summer's word cup in South Africa) in the forthcoming qualifying campaign for the European championships in Ukraine and Poland.
McDonnell's first coaching job was when he became player manager for Northern Irish club Newry Town (now called Newry City) in 1998 who did very well as underdogs in the UEFA Intertoto Cup, progressing after a 2-1 aggregate win over Croatian team Hrvatski Dragovoljac before being knocked out in the following round by German Bundesliga side Duisburg, winning 1-0 at home, but having lost 2-0 in the away game.
In the 2008/2009 season, McDonnell again got some impressive results in the UEFA Cup, now for St. Patrick's, where they qualified for the 1st round proper, having eliminated JFK Olimps Riga and IF Elfsborg in the qualifying rounds, but were eliminated by Bundesliga team Herta Berlin, losing 2-0 away and drawing 0-0 in the second leg at home.
McDonnell also has experience as assistant coach for the Irish under 20's at the 2003 FIFA World Youth Championship.
McDonnell confirms Luxembourg friendly – but also a friendly in Denmark?
In the ongoing saga of getting a confirmation on the friendly international away to Luxembourg on 4 June, McDonnell reveals in an interview in the Irish Times that the friendly with Luxembourg in June will indeed take place, although the Faroese Football Association has still not said a word about it, and neither has it been mentioned in other Faroese media.
McDonnell said:
"We have games lined up in Denmark, probably, and definitely Luxembourg before the summer and then afterwards we start the campaign against Estonia before playing Serbia and Italy in September. I'm buzzing about the thought of it all," he laughed, "I haven't been this excited since I got my confirmation money"
But what's this about probably games in Denmark? That's something which the Faroese Football Association haven't said a thing about either. But don't expect it to be a friendly international against Denmark, as Danish coach Morten Olsen is not particularly fond of the Faroese international team. But then again, which coach is?
But it sounds like this Johnny Mac likes to talk – maybe more than the football association would like him to do…
You can read the whole interview with him in the Irish Times here.
And at RTI Sport, you can listen to a 5 minutes-long interview with the new Faroe Islands assistant coach.
--------
Gunnar Nielsen probably no more Premier League action this season

As the English F.A. have allowed Manchester City to draft in an emergency goalkeeper, it looks like Gunnar Nielsen's place will again be on the bench.
City have made a deal with Sunderland's Hungarian international goalkeeper Marton Fulop who will be on loan at City for the rest of the season and is expected be between the sticks for the 3 remaining matches of the season. 26-year-old Fulop, who is 3rd choice at Sunderland, has appeared 20 times for Hungary.
---

26 April, 2010
Draw for Cup semifinals

The draw for the semifinals of the cup competition was made this evening and turned out like this:
B36 Tórshavn - EB/Streymur
ÍF Fuglafjørður - Víkingur

The first leg will be played on 20 May and the second leg on 8 June.
The final will be played in Tórshavn on 1 August.
---

24 April, 2010
Goalkeeper Gunnar Nielsen
becomes first ever Faroese
in the Premier League
The below image is a screen dump from BBC which documents the historic moment when a football player from the Faroese Islands for the first time ever played in the Premier League. Gunnar Nielsen replaced injured Shay Given in the Manchester City goal in the 73rd minute.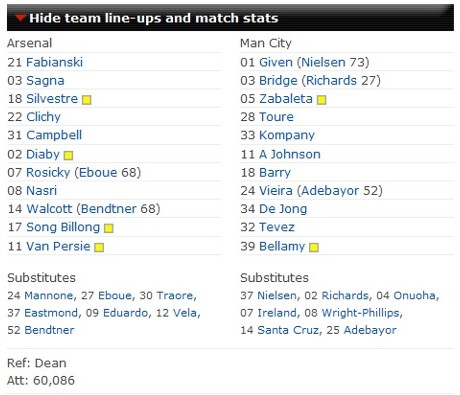 What every footballer in the Faroe Islands for decades has been dreaming about would happen to them became real for 23-year-old goalkeeper Gunnar Nielsen on Saturday as he made his debut in the English Premier League for Manchester City against Arsenal. Nielsen is the first ever Faroese to have accomplished that feat.
Nielsen started the match on the bench as he has been doing for a few weeks now, but in the 73rd minute, he replaced Shay Given in the City goal who had been stretchered off with a dislocated shoulder.
The score was 0-0 at the time and after 8 minutes of added time, the score was still 0-0 as Arsenal hadn't found a way to beat Nielsen. However, he wasn't tested too much, but in those incidents where he was called to into action, he mastered it to perfection.
As is looks, Nielsen will be playing in the remaining matches of the season as Given is expected to be out for the season, and the same is the situation with City's other reserve keepers who would normally be picked before Nielsen. These are crucial games for City as they will decide if they qualify for the Champions League.
On a Manchester City forum, bluemoon-mcfc.co.uk, they have started at least 2 threads about Gunnar Nielsen who most City fans can't spell correctly. The one thread is a bit more positive than the other. Some posters give Gunnar full backing while others are more sceptical. Here is one of the positive quotes, from Freestyler:
"he commanded his box and he came for 2 crosses and won both clean, straight away i know this guy won't fuck about with high balls.
finally we might have a keeper who will command his box, for any defender it is always good knowing your keeper can do this, our back 4 won't be dissapointed Nielson is behind them, if he can command our back 4 will take that and so will i, just gonna be interesting to see what his shot stopping is like.
I have faith in Nielsen, do us proud."
You can read the two threads
and
here.


2:07 into this video wou'll get a short glimpse of Gunnar Nielsen where an Arsenal free kick is just centimetres from going in:

---

20 April, 2010
FIFA now confirms Luxembourg friendly
Since 10 March we have been writing that according to the football association of Luxembourg, they were going to take on the Faroe Islands in a friendly international on 4 June (one of our secret agents in our European net of football-spies gave us a tip about it).
But as mentioned countless of times, the match has never been mention with one word in any media in the Faroe Islands (except here) and the Faroese football association has apparently wanted to keep it a secret as they have never mentioned it on their website or made any announcement of it.
But now FIFA writes on their website that the match will indeed take place on 4 June - in Luxembourg:http://www.fifa.com/associations/association=fro/index.html
That must be considered as a confirmation of the match!
But why does the Faroese F.A keep it a secret?
---

10 April, 2010
Second best:-) website about Faroese football launches
Yesterday www.FaroeSoccer.com officially launched. This is a massive website which primarily focuses on statistics from Faroese football.
At the moment it is in Faroese only, but below is as a small dictionary to help you out while we wait for the English version to get completed sometime.
But as they say on FaroeSoccer: "Most of our current stats pages should not however involve too much brain storm for those used to read results and tables."

Dictionary:

Framsíða > Frontpage

--------

Kappingar > Competitions
Menn > Men
Kvinnur > Women
Steypakappingin > Cup competition

Støðan > Table
Dystir > Matches
Mál > Goals
Kort > Cards

--------

Leikarar > Players

Menn > Men
Kvinnur > Women

Fornavn > First name
Eftirnavn > Last name
Tjóðskapur > Nationality
Felag > Club

(These are repeated under coaches and referees)
MV > Goalkeeper
V > Defender
M > Midfielder
Á > Forward

--------

Venjarar > Coaches

--------

Dómarar > Referees

Hjálpardómarar > Assistant referees
Eygleiðarar > Observers

--------

Ymiskt > Miscellaneous

Um Faroe Soccer > About FaroeSoccer
Dómaraseðlar > Referees' match reports
Myndir > Pictures

--------

Navn > Name
Pláss > position
Aldur > Age
Dystir > Matches
Min. > Minutes
Inn > In
Út > Out
Eyka > Substitute (on bench without coming on)
Mál > Goals
Gul > Yellow
Reyð > Red

--------

Umfar > Round
Dagur > Day
Dómari > Referee
Heina > Home
Úti > Away
Úrslit > Result
Lið > Team
Mál > Goals
Br. > Penalty
Min. > Minutes
Dy. > Matches
Miðal > Average
Sj. > Owngoal

--------

Lat Aftur > Close Window
Flyt > Move Window

========
Injury-plagued EB/Streymur send for Denmark-based Marni Djurhuus
With a whole host of injured players, EB/Streymur have sent for the service of Marni Djurhuus, who moved to Denmark early in the year. Djurhuus mainly plays in central defence. He'll return to Denmark immediately after the game against FC Suðuroy on Sunday. He is reportedly in good shape as he has been training with Danish side Vanløse.
--------
Former HB goalkeeper Bárður Johannesen acquired by B71 Sandoy
As B71's Serbian goalkeeper Predrag Markovic got injured in the 1st round of the Cup competition against Víkingur, inexperienced 18-year-old Gustav Hentze has been his replacement in the games in the 1st and 2nd round of the league.
But B71 have now opted for more experience between the sticks and have acquired 36-year-old former HB goalkeeper Bárður Johannesen who retired at the highest level after lifting the title trophy in 2006.
---

06 April, 2010
Cup draw for the quarter finals

The draw for the quarter finals were made this evening and B36 Tórshavn must be considered favourites to go through to the semi finals as the drew 1st division club FC Hoyvík.
The full draw is listed below:
FC Hoyvík (1div) vs B36 Tórshavn
FC Suðuroy or Skála (2div) vs. EB/Streymur
ÍF Fuglafjørður vs. B68 Toftir
Víkingur - AB Argir

Only FC Hoyvík and Skála are not top flight teams. FC Suðuroy and Skála still haven´t played their 1st round match.
The quarter finals will be played on Sunday 25 April.
----
Transfer Window 2010/2011

The Football Association has set the dates for when the transfer window will be open after the end of current season.
It opens on December 15 20010 and closes again on 10 March 2011.
It then reopens on 30 June 2011 and closes on 28 July 2011.
| Faroe Islands Football News |
| Home of Soccer and Equipment |